Farmers Day in Ashanti Region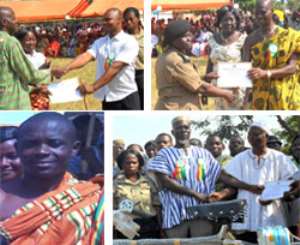 A thirty-five year old  livestock farmer of  Bobra in the Offinso North District of the Ashanti Region, Mr. Eric Tuffuor, became the Best Ashanti Regional Farmer, when he and 20 other farmers were honoured at the 27th National Farmers Day celebration held at Otaakrom in the Atwima Mponua District.
He received a corn mill, 10 cutlasses, agro chemicals, a bag of organic fertiliser, a radio set, bicycle, spraying machines and wax prints.
The Kumasi Metropolitan Assembly (KMA) observed the day at Parkoso near Kumasi, where a total of 20 individuals and two institutions received awards.
Thirty-six year old John Yeboah emerged the best farmer in the Kumasi Metropolis. His 13-acre cocoa farm, 8-acre palm oil plantation, and 2.5 acre cassava farm qualified him to annex the top position in the metropolis.
Mr. Yeboah is also engaged in the cultivation of lettuce (2 acres), cabbage 1.5 acres, onion (0.5 acres), plantain (1 acre) and cocoyam (0.5 acres) among other foodstuffs.
For his prize, he took home a number of items, including four cutlasses, a box of Tops-M agro chemical, one Mistblower sprayer, five bars of key soap, two pairs of wellington boots, a 21-inch TV set, and a DVD player.
Two institutions, which also won awards, are the Kumasi Academy Senior High School and Parkoso R/C Junior High School.
Prizes ranging from wellington boots to key soap were presented to the rest of the award winners.
At Kyebi near Abofour, where the Offinso Municipality observed the 27th National Farmers Day celebration, Mr. Alari Alimbeli was adjudged the overall Best Farmer for the Offinso Municipality. He has 25 acres of palm trees, two acres of beans, 30 cows, 16 acres of maize.
He received 10 cutlasses, a bicycle, TV set, DVD player and a Mistblower spraying machine from the Municipal Chief Executive, Mr. Amankwah Kesse, as his prizes.
The prizes were sponsored by the Nwabiagya Rural Bank.
Mr. Kwabena Brefo received a Mistblower spraying machine as the Offinso Municipal Best Farmer (Plantain), while Akwasi Appiah was adjudged the Best Physically Challenged farmer in the municipality.
The Afigya Kwabre District Assembly rewarded 19 farmers for their hard work at Adukro. They were presented with various prizes for their outstanding contribution to the development of agriculture in the country.
They took home refrigerators, knapsack spraying machines, bicycles, agro-chemicals, three-burner gas cookers, cutlasses, flat screen television sets, bars of soap and pairs of wellington boots.
At Kasaam in the Kwabre District, Baffour Asuming Gyekye, Chief of Asonomaso, and 24 others were honoured with prizes for distinguishing themselves in various areas of agriculture.
The Chief won the Overall District Best Farmer award, and was presented with a 21-inch television, bicycle, radio cassette player, wellington boots, a spraying machine, four cutlasses and wax print.
The others were given wellington boots, cutlasses, bars of key soap, radio cassette players, and certificates.
The Asante-Akim South District rewarded 24 farmers at Wenchi for their immense contributions to the development of agriculture and promotion of food security.
Each of the selected farmers received a knapsack sprayer, wellington boots, radio cassette recorder, cutlasses and certificate of honour.
Mr. Samuel Nyarko, 61, who emerged the Overall District Best Farmer, had a 21-inch colour television and bicycle added to his items.
Ernest Best Anane reports from Bipoa that the Sekyere South District crowned 46-year-old Mr. Samuel Appiah-Kubi as the Overall District Farmer for his dedication, commitment and hard work.
He has farms at Morso, Canaan and Bipoa, including 20 hectares of cocoa, yams, cassava, plantains, and maize, vegetables (garden eggs and pepper), as well as 15,000 cocoa seedlings.
He took home a cutlass, weedicides, wellington boots, sound system, pressing iron, bicycle, deep-freezer and knapsack sprayer.
In a related development, a 60 year old Assembly Member of Senfi and a Teacher at the Senfi Junior High School, Mrs. Agatha Boateng, won the Overall Best Farmer award in the Bekwai Municipality.
She has about 100 hectares of farm land, comprising 50 hectares of cereals, 15 cattle, 1 hectare of oranges, and 49 hectares of other agriculture products and fowls.
Meanwhile, the Metro Director of the Ministry of Food and Agriculture, Mr. Stephen Asante, has urged farmers to take advantage and approach Agriculture Extension Officers with all their problems.
He said the move would help them adopt modern technologies to enhance food production.
Mr. Asante said the category of awards covered all stakeholders in the food value chain, including agro inputs, distribution, production, processing and marketing.
The Metro Agric Director indicated that the criteria for selecting best farmers at the various levels bordered on sale of produce, adoption of technologies, good agric practices, and ability to share ideas with other farmers.
1.    Akwasi Appiah (right) was the Best Physically challenged farmer in the Offinso Municipality
2.       Mr. Kwabena Brefo receives a certificate as the Best Farmer (plaintain) from Municipal Fire Officer Margaret Owusu
3.         John Yeboah, Kumasi Metropolis 2011 Best Farmer
4.         Alari Alimbeli takes Offinso Municipal Best farmer prize from MCE, Amankwa Kesse