Project Abroad Walks With Orphans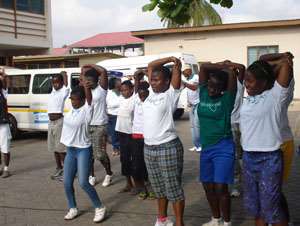 A section of the children undertaking aerobic exercises after the walk
PROJECTS ABROAD, a UK-based youth volunteer organization, over the weekend, organized a health walk for inmates of the Osu Children's Home in Accra.
The exercise which started about 6:00am saw foreign youth volunteers walking from Pig Farm through some principal streets of Accra to the Osu Children's Home.
The second health walk organized by Projects Abroad was meant to inculcate the habit of exercising in the children to help improve their overall health and reduce hospital bills in the long run.
Tom Davis, Country Director for Projects Abroad told journalists during the event that what informed the organization's decision to hold the health walk are the findings from research conducted by Projects Abroad about healthy living.
The study revealed that regular basic exercises help to reduce the high medical bills patients often pay when they visit the hospital as it keeps them healthy and active.
'We did a study and found out that people are complaining about medical bills but when extra exercise is put in, their health status improves and in turn reduces medical bills,' Davis stated.
He explained that the organization has consequently decided to form a keep fit club at the orphanage so the children could get routine exercises which will help keep them active and healthy. 
'From today, we are going to work on the keep fit club to make sure that the kids are very fit so they can go about their normal duties effectively,' he observed.
Davis said in order for the initiative to be sustained, Projects Abroad has donated some sporting equipment to the orphanage and helped to revamp its playing field.
'We have made donations of basketballs, volleyballs and table tennis equipment and we are now looking forward to forming a football team,' he said.
Sharon Abbey, Head of Osu Children's Home, expressed joy at the efforts of Projects Abroad towards healthy living for children.   
'The children have a daily routine of getting up, doing their house chores, eating and going to school so there is little time left for such exercises which will help improve their health status. We are therefore grateful for this event and it puts us all on our toes including the staff,' she said.
'Since the first exercise event was held we have had less cases of illness being reported and the children's attitudes have changed. They respond more actively to duties.'  
 By Jamila Akweley okertchiri