Okyehene breaks silence on galamsey; laughs at accusers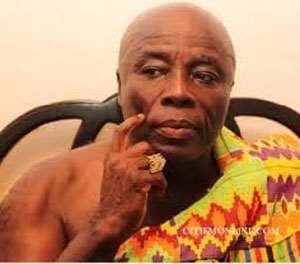 Osagyefo Amoatia Ofori Panyin II
The Okyehene, Osagyefo Amoatia Ofori Panyin II has broken his silence over allegations linking him to galamsey operations in his area.
A member of the Asona royal family of Kyebi, Odehye Nana Adjei Boateng who claimed the Okyehene backed the illegal mining he publicly denounced has a fine hanging around his neck. The Okyeman Council had imposed a fine of 72 sheep and 36 crates of schnapps http://edition.myjoyonline.com/pages/news/201111/77140.php on Odehye Kwame Boateng.
His attempts to perform rituals at the palace to cause the removal of the Okyehene led to violence. There have since been accusations and counter accusations by various groups.
But the Okyehene has only been having a laugh at the development.
'Recently in the news, you've heard my name all over the place that the Okyehene is involved in galamsey, and I laugh…I think if I want to do mining, anybody can't stop me…why will I go and hide to steal my own property?'
Osagyefo Amoatia Ofori Panyin II is appealing to government to intervene to as a matter of urgency put an end to the on-going rush for gold at Elmina before the worse happens.
Source: Myjoyonline