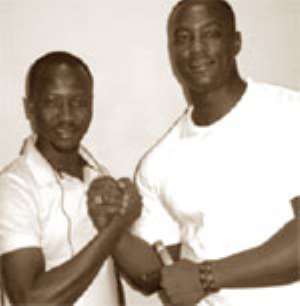 Ghana's Most Strognest displays his stuff with The Chronicle.
AS GHANA prepares to hold crucial elections in December 2012, concerns are once again being expressed about possible violence being perpetrated through the use of macho men at polling stations by the various political parties.
Such unfortunate incidents do not only cast slur on the credibility of the electoral process but also results in some innocents lives being lost as a result of the clash between two opposing parties.
At the helm of such untoward incidents have been the use of bulky and well-muscled individuals, described as 'macho men', whose services have been used by political parties to perpetuate their selfish interests.
It is against this backdrop that the winner of the recently held muscle display reality show on TV3, which was dubbed 'Ghana's Most Strongest',  Faisal Alhassan, has launched a programme to educate the youth, particularly his colleague macho men not to fall prey to the antics of politicians in the upcoming election.
Dubbed 'Operation Violent Free 2012 Elections', Faisal says he hopes to use the campaign to reach out to politicians, civil society organizations, NGOs and the youth in general, so as to help avoid the practice of using macho men to cause violence.
He noted that he wants to use the platform to erode the perception that the only job available for body builders is to engage in land guard activities and gangsterism.
The winner of the maiden 'Ghana's Most Strongest' said it was his dream to reach the length and breadth of this country to educate the youth and his colleagues on the need to ensure violence free elections.
The project, which is expected to be officially launched in Wa, in the Upper West Region, would involve other stakeholders including the media and other groups committed to violence free elections, would kick-start early January.
Faisal told The Chronicle during  an interview  after a  press briefing in Kumasi that he is very much worried that macho men in the country have been tagged as agents of violence due to lack of education on the part of people involved in the sport.
He, therefore, called on civil society groups and NGOs to support him in the campaign to ensure that Ghana once again goes through next year's election peacefully.