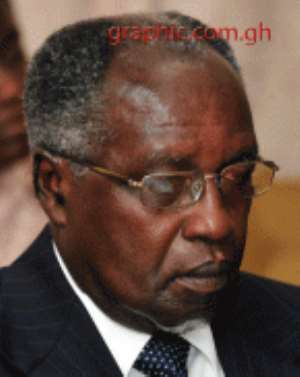 A seven-member governing board of the Petroleum Commission (PC) mandated to promote sustainable and cost-efficient petroleum activities locally was inaugurated in Accra Wednesday.
The board is chaired by a retired Vice Chancellor of the University of Ghana, Professor Ivan Addae-Mensah, and has a former Deputy Energy Minister, Dr Kwabena Donkor, who has since assumed post as the Chief Executive Officer (CEO) of the Petroleum Commission, as a member.
Others include Professor David Atta Peters, a lecturer at the University of Ghana; Mr Bishop Akologo, a representative of the civil society group; Mr Kwame Pianim, an economist; Ms Victoria Emefa Headcastle, a legal practitioner; and Mr Daniel Amlalo, acting Director of the Environmental Protection Agency (EPA).
Administering the oath of secrecy, the Minister of Energy, Dr Joe Oteng-Adjei, said the establishment of the commission was in response to Article 269 of the 1992 Constitution which required the establishment of the commission.
According to him, the board would be responsible for setting up the commission's operational programmes and targets in line with the overall objectives of government policy directives.
"I am confident the governing board would not fail in its responsibility of assisting government in turning the fortunes of the country around using oil and gas resources," Dr Oteng Adjei said.
He charged the board not to restrict itself to issuing broad policy guidelines, approving operational targets and ensuring efficient management of resources to achieve targets.
The minister also challenged them to be conversant with the government's guidelines and circulars defining relationship among the boards, management and the government, and expressed the hope that the rich background of members would adequately ensure a fulfilment of the government's mandate to the people.
The chairman of the board, Professor Addae-Mensah, on behalf of the board indicated that the discovery of oil had raised the expectations with the people wanting to see revenues from their natural resources manifesting in their lives and the general development of the country.
According to him, managing the petroleum industry the world over has remained a daunting task, hence the need to ensure decisions reflect the tenets of laid down regulations.
While expressing appreciation to President Mills for the opportunity offered them to serve the country, Professor Addae-Mensah gave an assurance that the board would take decision in the best interest of the people.
Present at the ceremony were a Deputy Information Minister, Mr Samuel Okudjeto-Ablakwa, the Chief Executive of the Ghana National Petroleum Corporation, Nana Boakye Asafu-Adjaye, and Mr Kofi Armah-Buah, a Deputy Minister of Energy.