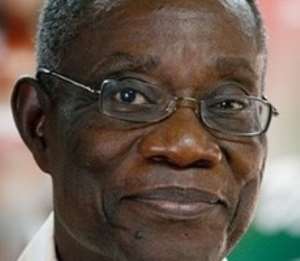 President Atta Mills
The Minister of Communications Haruna Iddrisu has eulogized President Atta Mills' visit to China last year, describing the $3 billion loan as a "diplomatic dividend" the country realised from that trip.
To him, the hue and cry, mainly from the Minority in Parliament, was not that necessary considering the quantum of development projects to be executed under the loan. Speaking on Joy FM's news analysis programme Newsfile, Saturday, he maintained that people's concern should rather be on how judiciously or prudently loans are used.
"I describe it as the diplomatic dividend of the President's visit to China…it depends upon what we use the loans for. If we use it for productive engagements such as what this three-billion-dollar is seeking to do, it may even be able to amortize itself over a period of time."
President John Evans Atta Mills and his Chinese counterpart, Hu Jintao, September 2010 signed a deal for $3 billion loan for specific areas including infrastructure development, job creation and the development and other derivatives of oil and gas to be disbursed through the China Development Bank.
The loan which generated a lot of controversies was approved by the Parliament of Ghana on Friday, August 26, 2011 by voice vote. The Minority abstained.
Haruna Iddrisu, who is also the Member of Parliament for Tamale South had issues with his colleagues from the Minority side, accusing them of politicizing the loan.
"I have said that to the extent that the Minority are raising issues to improve the performance of Parliament in exercising its oversight and in deeper scrutiny, I have no difficulty with them; but to the extent that they choose to do politics, I have problems."
However, the Member of Parliament for Bimbila Dominic Ntiwul, reiterated the Minority's position on the loan, noting that they were not opposed to the loan, but said there were a number of details that were not made clear in the report, which the Minority wanted the government to correct.
"We have also said that what is coming, it's not that the Minority is against it…But there are problems with the loan. Government should take its time and address these problems and we can move ahead."
He also criticized the Majority MPs from the Western Region who held a press conference to court their colleagues from the Minority side to vote for the loan.
He said the press conference set a "bad precedence", which he claimed was aimed at portraying their colleagues as persons who opposed the loan, when about $1.8 billion has been earmarked for development projects in the Western Region.
The Editor-in-Chief of the New Crusading Guide contested the claim that the loan was a diplomatic dividend of President Mills' visit to China.

"This country has been progressively moving up in terms of its economy attraction, so I am not too sure that we can reduce this three-billion-dollar loan facility and the fact that it has come at this time to just a diplomatic dividends of a presidential visit, it would be an exaggeration."
According to him, for the fact that Ghana is a lower middle income economy, oil and gas at its disposal, "there is no way a Chinese or any other country will sit with you and negotiate this quantum of loan facility, because you wouldn't have the capacity to pay. Our credit rating over the last six, seven years has also been positive."
Story by Isaac Essel/Myjoyonline.com