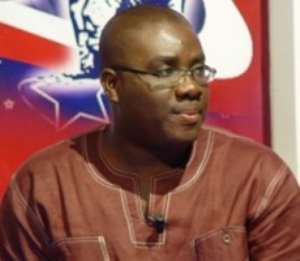 Sammy Awuku, Deputy Communications Director of the NPP
A member of the Communications team of the opposition New Patriotic Party (NPP) Samuel Awuku is of the firm conviction that the approval of the $3 billion Chinese loan facility is another avenue for the ruling National Democratic Congress (NDC) to rub the country.
He said the lack of clarity in the loan agreement is ploy by the government to transfer some of the money into individual pockets.
Sammy Awuku's claims comes to corroborate an allegation by the Executive Director of the Danquah Institute (DI) Gabby Asare Otchere Darko that brokers of the controversial $3 billion Chinese loan being sourced by government are guaranteed $30 million.
Gabby Otchere Darko maintains that his comments are based on facts and figures inherent in the amended $3 billion loan agreement.
but government in a quick rebuttal issued a statement Friday demanding a retraction and an apology from Gaby for the comments.
However, on Asempa FM's Ekosii Sen programme Friday, Sammy Awuku said "the NDC administration is like a sick patient on a hospital bed. They have lost ideas almost lifeless".
He added that instead of the Mills-led administration appropriating the limited resources available to development the country, they rather fancy borrowing from other countries just to satisfy their insatiable needs to the detriment of the future leaders of the country.
Sammy Awuku noted that NDC's ambition to retain power in 2012 has superseded their plans to fulfill their Better Ghana Agenda they promised Ghanaians.
The Deputy Communications Director of the NPP stated that the concerns raised by the minority should not be misunderstood by Ghanaians especially the chiefs and people of the Western region.
He said the loan facility is the biggest loan agreement Ghana has ever entered into hence the need for due diligence to done before it is approved.
Sammy Awuku stressed that the NDC led by President Mills would be disappointed in 2012 if they intend to buy the conscience of Ghanaians with the$3 billion Chinese.

Story by Adwoa Gyasiwaa/Myjoyonline.com/Ghana