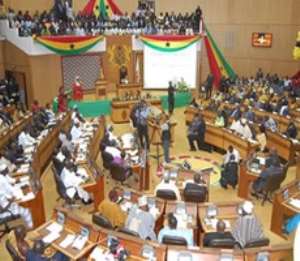 Members of Parliament, as expected, have expressed mixed reactions following the approval of the $3 billion Chinese loan agreement.
Whilst the Majority is describing it as a joyous occasion for all Ghanaians, the Minority is singing a different tune.
Majority Leader, Cletus Avoka told Joy News' Dzifa Bampoh they have satisfied all legal requirements in passing the bill.
He said the Majority did not in any way violate Article 181 of the 1992 Constitution, the Loans Act of 1970 in approving the loan.
"To all intents and purposes we have met all requirements and the approval is in order," he noted
But the Minority MP for Bimbilla, Dominic Nitiwul said the approval can only be a disappointment for the republic of Ghana.
He said the Minority have pointed many flaws inherent in the agreement and hopes their colleagues in the Majority will address them, the approval notwithstanding.
He said there was not enough time for a thorough discussion and assessment of the agreement, adding, the Minority will later meet to point out more issues to the Majority to ensure there is value for money.
Play the attached audio for excerpts of the debates on the floor of the House

Story by Nathan Gadugah/Myjoyonline.com/Ghana