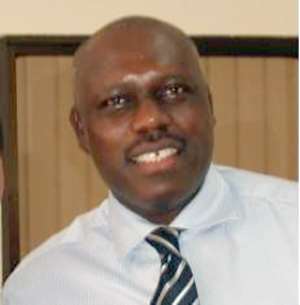 It has emerged that the embattled Chief Executive Officer of STX Engineering and Construction Ghana Limited, Bernard Kwabena Asamoah, allegedly issued dishonoured cheques to a private company that he transacted business with in Accra on behalf of his company.
Documents sighted by DAILY GUIDE show that seven different cheques issued by Mr. Asamoah to Rana Motors and Metal Works Engineering Company Limited for the purchase of a vehicle were all dishonoured at the HFC Bank.
As a result, Rana Motors, dealers of Korea-made KIA cars, has issued a stern warning to STX Engineering and Construction Ghana Limited to make immediate payments or they would resort to court action soon to redeem the debt totaling $36, 516.69.
A letter signed on August 19, 2011 by Chairman of Rana Motors and Metal Works Engineering Company Limited, M.A. Odaymat and addressed to B.K. Asamoah said, 'We wish to draw your attention once again that the under-listed post-dated HFC Bank Ghana Ltd cheques you issued to our company have all been dishonoured on presentation to the bank.'
According to the letter, with reference number RM/MAO/CDK, the cheques, worth $5, 216.67 each, were issued between January and July 2011 on different dates.
They were 653026 (January 31), 653027 (February 28)   653028 (March 31), 653029 (April 30), 653030 (May 31), 653031 (June 30) and 653032 (July 31).
The letter warned, 'We demand immediate payment of the total sum involved, otherwise you will leave us with no alternative than to take action as deemed necessary against you,' adding, 'We hope you will not push us to this extent.'
The STX housing deal is virtually on the brink of collapse as the Koreans and their Ghanaian partners are at each other's throat over boardroom disagreement.
The boardroom wrangling, which has taken a better part of the deal since Ghana government committed itself to the agreement with STX Korea to build 200,000 housing units in the country, took a nasty turn last Thursday when the Koreans said they had sacked Mr. Asamoah, as the chief executive officer of the company.
Mr. Asamoah, credited for introducing the STX deal to the government, however, fought back barely 24 hours later, insisting the decision was null and void.
A press release issued in Accra and signed by B.K. Asamoah said, 'Any actions taken by STX Construction (Korea) or its agents in respect of the operations of STX Engineering and Construction Limited are of no consequence.'
He said the Koreans had ceased to be part of the hosing project since May.
A day earlier, STX Korea had issued a statement, saying, 'Furthermore, please be informed that two criminal complaints and two civil lawsuits have been filed against B.K. Asamoah.'
Im-Dong Park, CEO and executive chairman of the company who signed the statement said, 'On August 18, 2011, the Board of STX Engineering & Construction Ghana Limited has approved a resolution to remove Mr. B.K. Asamoah from the office of the Chief Executive Officer and Mr. George Padi from the office of the Deputy Chief Financial Officer.'
The release said that the company 'hereby notifies the public that Mr. B.K. Asamoah and Mr. George Padi do not have any rights to represent STX Engineering & Construction Ghana Limited in any action contract or agreement.
'Therefore, any commitment, contract and/or agreement made by Mr. B.K Asamoah are void and invalid.'
The already controversial deal has sparked another round of heated debates, with the Minority Leader in Parliament, Osei-Kyei-Mensah Bonsu, entering the fray once again to say that the Minority was unlikely to have anything to do with the current deal anymore.
He told Citi FM on Friday that the current STX boardroom impasse was an indication that the deal had collapsed and suggested that it should be quickly abrogated to save the government and the country from any further embarrassment.
He said once the partnership deal appeared to have broken down, it had to be brought to Parliament for further scrutiny.
'Without STX Korea, there cannot be STX Ghana. What it means is that the agreement that was approved by Parliament can no longer stand because it came with two parties as the partners to engage in the construction of the facility.'
However, Mr. Asamoah was of a different view and made it clear on Joy FM that the project was given to STX Ghana and not the Koreans and therefore could not go back to Parliament for scrutiny.
He said the Koreans had failed to live up to expectation and therefore STX Ghana had secured a partnership deal with Western Forms, a company from America, to provide expertise with Mexican technology and would involve some local contractors.
By William Yaw Owusu