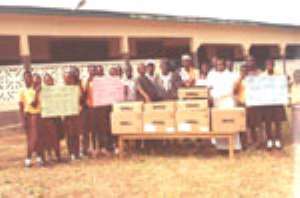 The Saint John the Evangelist Catholic Church in East Bridgewater, MA, USA, has donated 14 computers, accessories and books valued at US$4,000 to the Vea Community Library.
Making the presentation at Vea, the Very Rev. Fr. Moses Akebule, Cathedral Administrator of the Sacred Heart Catholic Church, Bolgatanga, said the Saint Bede Catholic Church, also in Hayward in California, USA, had built the community library at a cost of over GH¢54,000 and provided furniture, books and used computers.
He explained that the recent donation of the computers and books were made possible when the Pastor of the St. John Church, Rev. Fr. Walter Keymont, from East Bridgewater, USA, visited the Vea community and observed that lack of Information Communication Technology (ICT) was a major setback to the academic progress of schools in the area.
The donation was also made possible by the CCD Class of the Church, together with their Coordinators, Mrs. Lorraine Hopgood and Mrs. Nancy Smith.
The Very Rev. Fr. Moses Akebule also mentioned that 'Comite-Help Ghana', a non-governmental organisation (NGO) based in Holland, also contributed books to support the community library when it was first commissioned in December 2009.
He appealed to the stakeholders to take good care of the items, and said plans were afoot to expand the library and stock it with more learning material.
The Board Chairman of the Community Library, Mr. Solomon Adongo, who received the items, thanked the donors for the kind gesture, and said the students of Junior and Senior High schools had to commute the very long distance to either Bongo or the Regional Library at Bolgatanga, but that had stopped, as the library had almost all the required text books and reading material to cover their syllabus.
Mr. Adongo indicated that with the provision of the community library with ICT facility, it would help curb loitering of students after school, and also eliminate social vices among the youth in the area, as the facilities would benefit students from the 10 JHSs in the area.
Two librarians, who have been trained by the Bolgatanga Regional Library Board, and an ICT lecturer have also been engaged by the Community Library.
Mr. Roland Alumane, the ICT Lecturer, said with the installation of CD players attached to some of the books in the library, learning had become very easy for the students.