Fear and panic grips gov't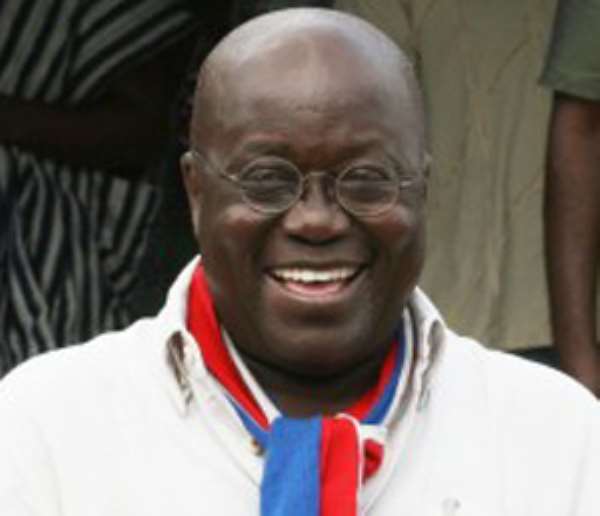 Nana Addo Dankwa Akufo-Addo
Government has been struggling to ridicule the results of a latest poll conducted by research group Synovate Ghana that put the presidential candidate of the opposition New Patriotic Party (NPP) in the lead if elections were to be held in April 2011.
The poll, which was conducted based on a sample size of 1,000 respondents, put Nana Akufo-Addo ahead of incumbent President Mills of the National Democratic Congress (NDC) and other political parties, thereby generating a knee-jerk reaction from some government officials.
43 per cent of respondents said they would vote for Nana Addo whilst 41 per cent said they would vote for President Mills, with eight per cent indicating their preparedness to vote for Dr Paa Kwesi Nduom of the Convention People's Party (CPP) and two per cent for the PNC's Dr Edward Mahama, with six per cent saying they were undecided.
It shows that the NPP's presidential candidate would win the four swing but deciding regions; Western, Central, Brong Ahafo and Eastern regions if polls were held today.
In the Greater Accra region, the poll results indicated that Nana Addo obtained 47 per cent, Mills, 43, Central Region; Nana Addo, 52%, Mills: 32%, Western Region; Nana Addo: 49%, Mills: 30%, Volta Region; Nana Addo: 5%, Mills 76%, Eastern Region; Nana Addo: 70%, Mills: 30%, Ashanti Region; Nana Addo: 60%, Mills: 27%, Brong Ahafo; Nana Addo: 36%, Mills: 30%, Northern Region; Nana Addo 17%, Mill: 58%, Upper East; Nana Addo: 22%, Mills: 68% and Upper West Region; Nana Addo trailed President Mills by 30%. President Mills got 50% in the region.
But Deputy Information Minister, Samuel Okudzeto Ablakwa and his colleague Deputy Minister of Science and Environment, Dr. Edward Omane Boamah have rubbished the polls.
Whilst Mr Ablakwa has described the entire poll as 'bogus', 'voodoo statistics' and a joke, Omane Boamah thinks it is 'fundamentally flawed.'
Speaking on Accra-based Citi FM yesterday, he said the polls were not based on any credible and scientific findings and thus urged the public to ignore it.
'If you go to page ten of the poll you will find a pie chart and even JHS and SHS students know that pie charts are supposed to give you a tally of hundred percent (100%). So if you look at page 10, the swing regions, Greater Accra 43% for President Mills, 47% for Nana Addo, 8% Paa Kwesi Nduom and 3% for Edward Mahama, if you add all you get 101%. Clearly this is a joke.'
For this reason, he said 'what you have here is some voodoo statistics that someone put together' asking rhetorically 'in any case which statistician who knows basic statistics would use household methodology for such a poll?'
He believed that the poll would have been better placed if it was conducted on an individual basis instead of the use of household methodology.
Dr Omane Boamah also raised doubts about the credibility of the polls, questioning the sponsors and the processes that led to the conclusions which favoured Nana Addo.
Speaking on Joy FM, he said 'the poll itself is fundamentally flawed because…for you to go for somebody within the household and assume that that person is going to be representative of the household's preference.'
In his personal opinion, 'it's just a way of raping the sovereignty of the other members of the household who are at the voting age in terms of their voter preference.'
The Deputy Minister of Science and Environment said that the numbers in a pie chart contained in the polls did not add up and questioned the competence of the organization that conducted the polls.
But Senior Research Officer at Synovate, William Mensah has denied Dr Omane Boamah's accusations that they were funded by any individual or a group of persons, since according to him, the sample selection was scientifically done.
He told the station the total sum of 101% could have simply been an error which does not necessarily affect the results, noting, 'we tried to round things up and if we get 101% that could be an error and it doesn't really affect the results' asking rhetorically 'who says it is not representative?'
Apart from that, he said Synovate has a good track-record and reputation in its chosen field of operation and would not do anything to mar that standing in the eyes of the public.
By Charles Takyi-Boadu