Little Henaku 'Killer' In Court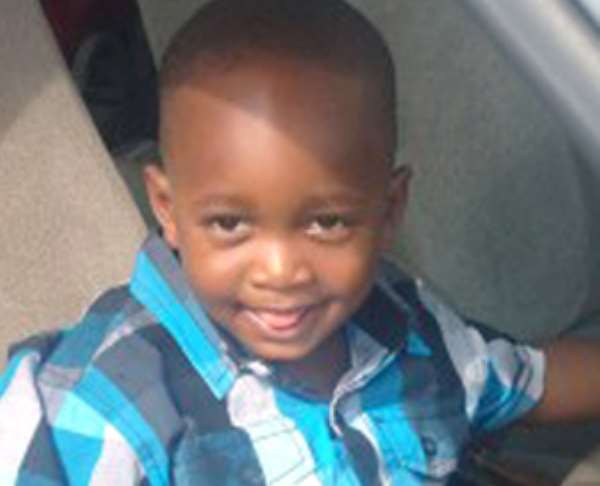 Kwabena Adjei Henaku
EMMANUEL AMANOR, the 32-year-old taxi driver who is suspected to have murdered a three-year-old school boy, Kwabena Adjei Henaku, has been hauled before an Accra District Magistrate court on a provisional charge of murder.
The accused person, who normally picked the child from school at Ecole Français Adekel School near the Kotoka International Airport, is suspected to have murdered him after the boy's school bag was found soaked with blood at the Akuapim Plains.
Amanor was remanded into police custody to assist in further investigations after the prosecutor, Cletus Abadamlora, informed the court that investigations were still ongoing.
The accused, whose plea was not taken, would re-appear on May 5, 2011.
According to the facts, Amanor, who has been employed by the child's parents, normally picked the boy up around 6am from the house each day to school and returned him home when school closed.
However, on Friday March 4, when the accused picked the child up at about 6:30am, he did not bring him back home.  Meanwhile, the school authorities confirmed that the driver picked the boy up around 3pm that day.
Following this, the child's grandmother reported the matter to the security agents and the suspect was arrested. Later, the matter was referred to the Homicide Unit at the CID Headquarters for further investigations.
The prosecution said when Amanor was picked up by the police, he claimed that the boy had died in an accident but he could not tell where the body was.
The accused, according to the police, led a search team to discover the blood-soaked school bag of the boy in a valley close to the Akwapim mountain range but the body of the boy could not be retrieved.
Upon further interrogations, the accused allegedly disclosed that he was involved in an accident in which the boy's head hit the dashboard of the car with registration number GR 2273-10, when he applied the brakes, and he died.
The police said he confessed to dumping the body off in a valley near Larteh on the Dodowa road, since he was afraid to report the matter to the parents.
The accused, sensing danger, later lodged a complaint with the Airport Police that he had been involved in an accident.
The prosecutor said the police are still looking for the remains of the school boy.
By Mary Anane