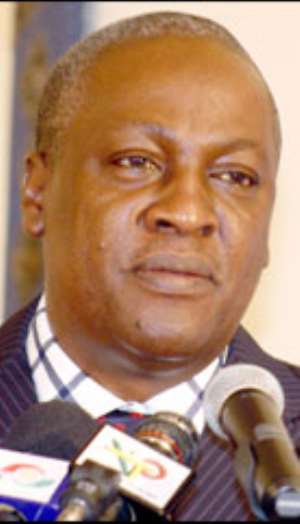 Vice President John Dramani Mahama
Vice President John Dramani Mahama, on Thursday, said the Cuban government had offered to train 250 students to become medical doctors for a five-year period.
'The students will be selected from deprived communities of the country, and they will return after training to work in those communities, to help eliminate child and maternal mortality among other challenges, to ensure quality health delivery,' he said.
Vice President Mahama said this during a meeting organised to spell out the contribution of European Union and other stakeholders towards the achievement all the Millennium Development Goals (MDGs) by 2015.
He said inadequate doctors, nurses, and other paramedical staff had, over the years, stifled Ghana's development agenda, and expressed the hope that with the training of more medical personnel, quality health would be brought to the doorsteps of people, particularly, in the rural areas.
The meeting, among other issues, outlined the achievements of Ghana in the MDGs, and measures underway to improve on those areas that they were either completely off track, or battling to cope.
Vice President Mahama said although resources were necessary for the achievement of those goals, there was the urgent need to tackle the level of commitment and change of attitude to particularly achieve the MDG seven, bordering on environmental sustainability.
He said attitudinal changes in the provision of household toilets were necessary and useful towards the eradication of diarrhoeal diseases such as cholera, which is claiming lives in the country.
He said the government would continue to partner development partners to ensure that the MDGs were achieved, as stipulated.
Vice President Mahama said though achieving the Goal on water and sanitation was a daunting task, considering the current achievement rate of only 12 percent, the government would inject into the system workable strategies that would ultimately yield dividends in those areas.
Madam Ruby Sandhu-Rajan, Resident Coordinator of the United Nations Development Programme (UNDP), commended Ghana for taking up the bold step of reducing hunger and poverty, and called for similar enthusiasm to fight against malnourishment, child and maternal mortality, and sanitation.
She said while over 1.2 million Ghanaians were not sufficiently catered for, in terms of food security, 14 percent of children were still undernourished, with nine percent of women in the reproductive age considered undernourished.
She called for the scaling up of community-led educational programmes and public/ private sector partnership, to ensure effective achievement of the MDGs.
Mr. Elvis Afriyie Ankrah, a Deputy Minister of Local Government and Rural Development, said the current situation, where over 20 percent of the Ghanaian population still defecated in bushes was unacceptable, and called for collaboration between the government and other agencies to
eliminate the practise.
'Over 70 percent of the Out-Patient Departments of our health facilities are attributable to poor sanitation, and if we have to achieve our goals, then we need to double up our activities and collaboration.'
Mr. Claude Marten, European Union Ambassador in Ghana, said the meeting would focus on areas where Ghana was not faring well, at the end of which appropriate interventions would be made towards the achievement of the aims and objectives. – GNA