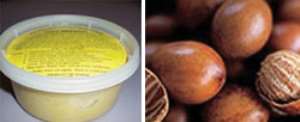 Shea butter made in Ghana (left), Shea nuts (right)
THE ABSENCE of a regulatory body to test the quality of shea butter meant for export, has often led to the exploitation of Shea butter producers by exporters of the commodity.
In order to curb the menace, the Natural Resources Officer of the Widows and Orphans Movement (WOM), Ms. Fati Abdulai, has proposed the setting up of a body to be responsible for the testing of the quality of Shea butter meant for export.
Ms. Abdulai recounted an experience her outfit had with an exporter, who she alleged, told them the consignment they took for export was declared unwholesome. This, she said, had resulted in her outfit demanding a refund its money from the exporter.
The Natural Resources Officer, who was speaking at a workshop on the effective management of the shea tree, organised by her outfit, with support from Oxfam, at Kongo in the Talensi-Nabdam district, indicated that unlike cocoa, shea butter had not seen any serious support from governments.
She was therefore, calling on the government to, as a matter of urgency, put in place measures to ensure that shea butter receives maximum attention, just like cocoa, so that the product can gain strong international attention.
Enumerating the benefits of shea, Ms. Abdulai said the whole of the tree can be used for several things, including medicinal purposes, food and for foreign exchange.
On food, she stated that the fruit from the tree is eaten, and as such contributes to food security in areas where it is grown.
She observed that the fruits normally mature during the lean season, and therefore, supplement the meals of the rural people, especially, when they are on their farms.
On export, Ms. Abdulai said the price of shea was higher than cocoa on the international market, and called on the government to consider giving the industry a boost, in order to reap the benefits of the economic tree.
Participants at the workshop expressed delight at the efforts made by the Widows and Orphans Movement to encourage the use of Shea butter.
According to them, Shea butter has been used since time immemorial in cooking, and also as pomade for babies and adults.
They intimated that any baby whose mother used Shea butter on it slept soundly at night, and advised young people to inculcate in themselves the use of Shea butter. As part of measures to ensure that Shea trees in the Kongo traditional area are protected, the participants, led by their chief and elders, set out rules and sanctions to punish people who destroy them.
Some of the sanctions include replanting trees to replace the destroyed ones, as well as payment of fines, as specified by the traditional authorities.