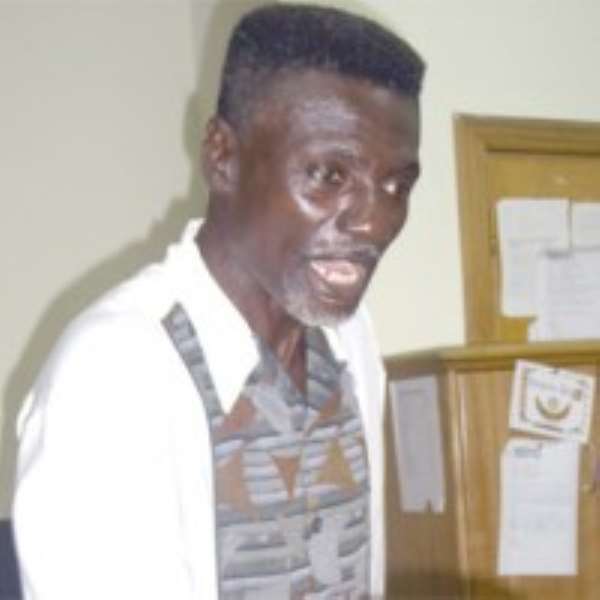 •Bennett Ablakwa
A tired-looking man, Bennett Ablakwa, claiming to be the foster father of Deputy Minister of Information Samuel Okudzeto-Ablakwa, has called for the immediate dismissal of his son from the Mills administration because of his arrogance and uncaring nature.
Mr. Ablakwa, full of bitterness and wearing a broken heart, walked into the offices of DAILY GUIDE last Friday January 21, swearing that Samuel Okudzeto-Ablakwa was too ungrateful to occupy a ministerial position and it would be in the interest of the country if he was relieved of the post.
The weary-looking man, who had an afro-punk haircut that had strands of gray hair, complained that though he had spent his life savings to father the Deputy Minister from a tender age of three, when his biological father virtually abandoned him, until he went through tertiary education, Samuel Okudzeto-Ablakwa now treated him like a piece of rag.
'Any time you go to his office, he says he is busy and would make us wait the whole day…when he finally meets with us and we ask him for money, he would say that his salary is just around GH¢2000 and that the family pressure on him is huge so he can't help us.
'His favorite term has turned to 'oh I can see you guys do not get it eh? I cannot dip my hands into the taxpayer's money for you.
I can only live within my means'; and true to his words, he would not help you. But what then is his essence in government if he cannot help us to acquire even an auctioned car?' Bennett Ablakwa stated.
The man's witness, his sister Sally Ablakwa, who accompanied him to the offices of DAILY GUIDE, remained silent throughout the interview.
When DAILY GUIDE reached Samuel Okudzeto-Ablakwa over the issue, he said he would not be dragged into discussing his family matters in the media.
The Deputy Information Minister, who has just returned from his honeymoon in the United States, said: 'I will not discuss family matters in the media and would rather leave everything in the hands of the Almighty God.'
Bennett Ablakwa, his adopted father, however explained to DAILY GUIDE that he got married to the Deputy Minister's mother when Okudzeto was about three years old and that he willingly accepted him as a son and gave his name to Okudzeto.
He said he and Ablakwa's mother gave birth to four other children and they lived as one big family.
Mr. Ablakwa said in an effort to put food on the table, he took to all sorts of jobs including being the pastor of the Deeper Life Christian Ministry, a taxi driver, a sweeper of streets in London and other odd jobs.
The Deputy Minister reportedly travelled with his new wife and mother to the United States recently after a marriage ceremony in Wa in the Upper West Region.
Some invitees and family members were said to have travelled in a long vehicle convoy while others flew and landed in Wa on a chartered flight, jolting the residents who rushed to the only airspace in the region to see which dignitary had landed in town.
Long after the newly-weds had left, the event became the talk of the town.
The next day, the newly-weds left the shores of Ghana to cool off in America, but the minister has since returned to resume his duties.
Ablakwa's dad indicated to DAILY GUIDE that he was neither invited to the function, nor informed when his son took the mother on the trip.
DAILY GUIDE is meanwhile following reports about a certain Kofi Manu who poses as a journalist in the paper's name and calls Bennett Ablakwa on phone over his alleged involvement in drugs.
By Halifax Ansah-Addo