2 Grabbed For Robbing Tourists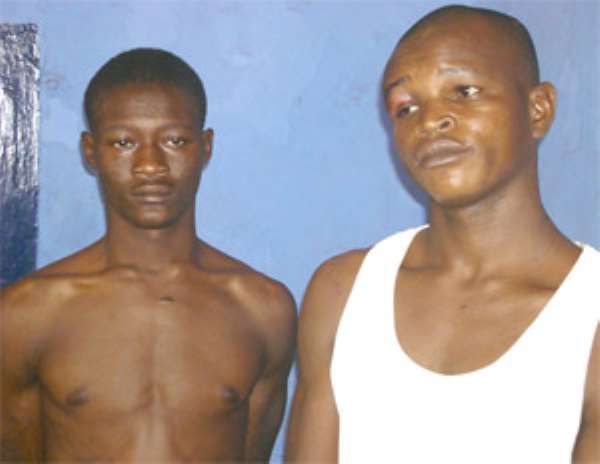 Nasiri Amadu and Mohammed Iddrisu
TWO YOUNG men in their early 20s, believed to be members of a robbery gang of 7 specialized in robbing expatriate tourists in the Northern region, have been busted by the Tamale Metropolitan Police Command.
The police have also launched a manhunt for five other members of the group believed to be natives, who are currently on the run, to assist in investigations.
Nasiri Amadu, a 22-year-old welder and unemployed Mohammed Iddrisu, 19, are currently in police custody and would be processed for court, after thorough investigations into the matter, to face charges of robbery.
According to police sources, the suspects had gained notoriety in recent times for harassing white men within the city and robbing them of their personal belongings including laptops and cameras.
Security sources told DAILY GUIDE that soon after the yuletide, the seven were spotted loitering about near Alhassan Hotel, a local guesthouse, around 7pm on January 2, 2011.
They were reported to have pounced on one Rosa Bardes Font, a Spanish tourist passing by. They subjected her to severe beatings and succeeded in bolting with her two expensive cameras, a mobile phone and a cash of GH¢500.
Some good Samaritans who were close to the scene and managed to identify some of the suspects volunteered information to the police, who got to the scene and arrested the two.
The suspects, in their caution statements, reportedly admitted to the offence. One of the cameras was retrieved from them upon their arrest, while a search has been mounted for the other five.
The police used the opportunity to caution visitors in the region to be careful of miscreants who pose as tourist assistants and later succeed in robbing them.
They expressed hope that with the arrest of the gang, such humiliating acts would come to end for tourists to feel safe in the region.
The region is noted for its historic tourism potentials, reasons for which at this time of the year, a number of tourists from all walks of life are seen trooping there.
Some miscreants have also resorted to terrorizing these foreigners and robbing them of their belongings but the police have promised to put an end to this conduct.
At the time of filing this reports, checks at the Tamale Teaching Hospital revealed that the victim of the robbery attack had been treated of the minor injuries she sustained and discharged.
From Stephen Zoure, Tamale