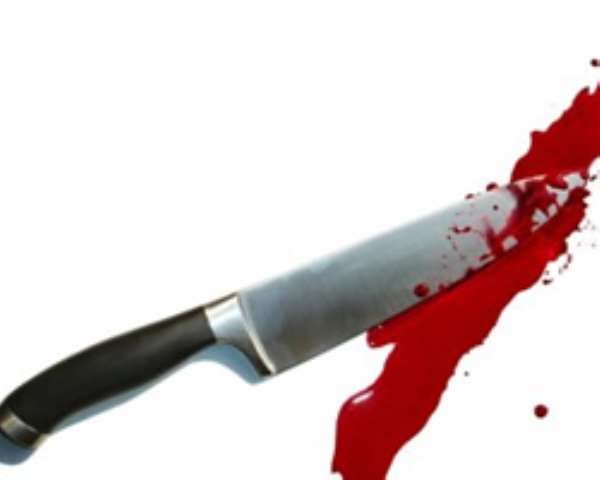 Residents of Zenu New York, near Ashaiman, are yet to come to terms with the gruesome murder of 26-year-old Mavis Osei Owusu, whose body was discovered in an uncompleted building at Washington.
Mavis Osei, a seamstress, was alleged to have been raped and killed by some unknown person(s).
According to a police source, one Kwabena Twum, stepfather to the deceased, had been nabbed to assist the police in their investigations.
Briefing DAILY GUIDE, the police source indicated that the stepfather, identified as the prime suspect, was alleged to have attempted raping her before her unfortunate death.
The source revealed that Mavis was staying with the mother and stepfather but moved to settle alone when the stepfather tried to sexually harass her.
"She then moved to live alone and to continue with her sewing business until the mother called her on December 30, 2010, to come over to take care of her younger siblings while she traveled to the village."
The source said the body of Mavis was found on the eve of the New Year, December 31, 2010, around 2.00pm in an uncompleted building, partially naked, with knife wounds in the lower abdomen.
"Her sewing machine was lying beside her, together with the knife the assassin(s) used in killing her."
Residents who trooped to the scene that fateful day, suspected that she might have been raped before she was killed.
Meanwhile, Vivian Adjei, a petty trader and mother of the deceased, according to sources, has accused her husband of killing her daughter.
According to the mother, Kwabena Twum, 48, a plumber, a year ago used a bottle to hit the deceased's head after his attempt to have sex with her failed.
"He was convicted last year and consequently released."
The grieving mother maintained that before the death of Mavis, she called her on the phone to come over to take care of her younger siblings while she, the mother, left for the village to buy some foodstuff.
"That night, I was told my husband did not sleep in the house, so even when news broke that my daughter had been found dead in an uncompleted building, my beloved husband had still not returned."
She stated that the husband was later seen at Sakumono by residents and arrested to assist the police in their investigations.
The Ashaiman District Police, who responded swiftly, visited the scene around 5:48pm to pick the body for autopsy.