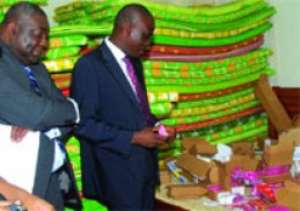 Mr Haruna Iddrissu (right), Communications Minister and Mr Paarock Van Percy, Director General of the National Communication Authority, inspecting some of the seized illegal Sim cards.
Another major arrest has been effected by the police in Accra, this time involving seven Ghanaians, including two women, and an American, suspected to be behind the illegal termination of international telephone traffic in the country.
The names of the suspects, including a student of the University of Ghana, Legon, are being withheld by National Security for security reasons.
The suspects, who were busted at their hideout at Taifa in Accra, are now in the custody of National Security pending further investigations.
Items seized from them were sophisticated machines, including eight SIM boxes, computers and large quantities of local SIM cards, most of them from Airtel, and hundreds of registration forms used by the local telecom operators to register SIM cards before they are used.
Each of the SIM cards is said to generate approximately US$40, an amount none of the local operators and the state can benefit from.
The arrest comes barely a month after a middle-aged man had been busted from his hideout at Achimota for his alleged involvement in a similar fraudulent activity.
The culprits are said to have made their money, among others, from the sale of international phone cards such as Washington Goal and Ghana To Go in Europe and the United States of America (USA) and heavily patronised by Ghanaian immigrants in those two countries.
Mr Nixon Wampamba of the Revenue Assurance and Fraud Department of Airtel, whose company's SIM cards were the most used to perpetrate the crime, told the Daily Graphic, "They found our cards more attractive because the call rates are the cheapest in the country."
On the activation of the SIM cards, he admitted that there might be some level of connivance between some workers of Airtel and the suspects, saying that investigations would be conducted into the act to apprehend those involved.
He said the manner in which the suspects made money from the process was highly technical but involved the purchase of international call traffic at cheaper rates, after which they used their own equipment to bypass the legal system.
He said once they were able to sell the cards used abroad by Ghanaians, they made their margins.
Mr Wampamba said the cards had been so programmed to bypass the legal international gateway with the aid of the SIM boxes of the illegal operators who acquired large quantities of SIM cards in the country to perpetrate their crime.
Another interesting issue, he said, was how the suspects managed to register the large quantities of SIM cards in their possession to be able to have them activated before they were used.