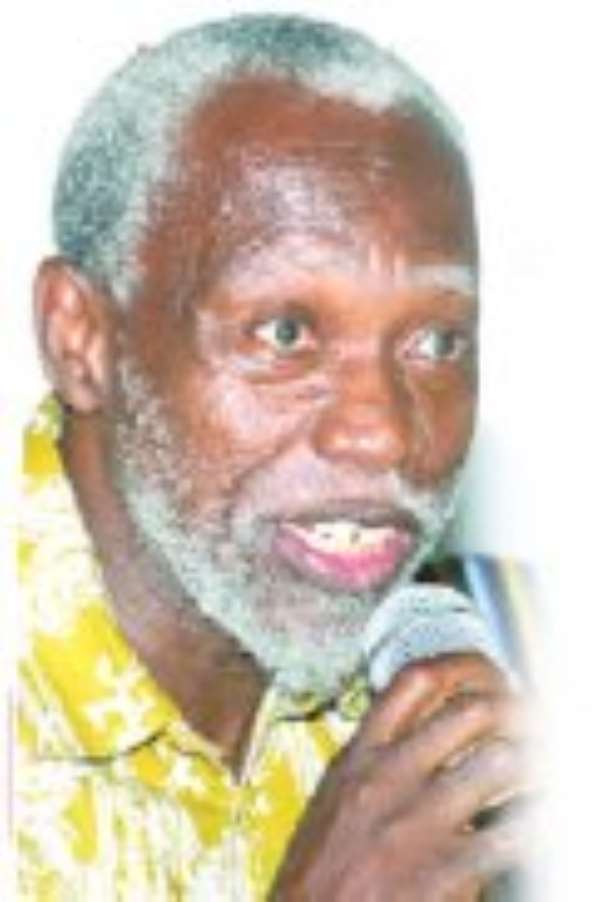 Professor Stephen Adei
The former Rector of the Ghana Institute of Management and Public Administration (GIMPA), , has added his voice to the ongoing debate on whether to collateralise the oil revenue or not and said it was in the national interest to make such a move for national development.
He, however, indicated that the move should be backed by a comprehensive, non-partisan national development agenda and the process made more transparent.
Speaking to the Daily Graphic at Aboadze on the debate on whether the oil revenue should be collateralised or not, Prof. Adei said, "There is nothing wrong with that, since we have been into collateralisation all these years."
To ensure transparency and national cohesion, he explained, there should be in place, as a matter of urgency, a 20-member team made up of representatives from all the political parties, academia and interest groups who would agree to a 10-year sustainable national development agenda and a proposal made to Parliament for debate and approval.
He said the proposed non-partisan group did not need any huge funding or support from external sources to function but rather a simple method to collect ideas and the issues debated and agreed upon by all for the way forward.
The debate, he advised, should not centre on the call by Vice-President John Mahama for collateralisation but rather the need for the formation of a long-term, non-partisan development plan which must be followed by successive regimes, irrespective of which government was in power, since all interest groups made inputs into that agenda.
Prof Adei said when that was done, "we will know our flow of income, when to pay back and the funds directed to what they were meant for, since no government will come and change it to serve its interest".
He stressed that there was no problem with collateralisation, adding that it had been the practice and the oil was not different.
"What we must not forget is that anytime a country takes a loan, it is backed by collateral.
The question, therefore, should be, how is it done? It is the process that should be transparent, not the collateralisation itself," he emphasised.
He pointed out that the country had, over the years, been collateralising cocoa and other resources. Touching on the issue of developing the country along non-partisan lines, Prof Adei said the Chairman of the National Development Planning Commission (NDPC), Mr P.V. Obeng, had recently made such a proposal which, when thought through, would help this country and position it on the right path for development.