November 17, 2010
|
Regional News
Bubuashie residents call for help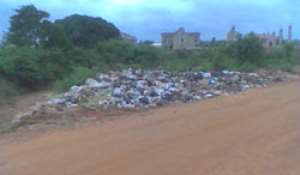 Residents of Bubuashie, a suburb of Accra, have called on the Accra Metropolitan Assembly (AMA) to come to their aid, since the community is inundated by floods anytime it rains, and is also lacking other social infrastructure.
According to the residents, the main drains in the area are not properly constructed, and also choked with refuse, which makes it difficult for the free flow of water whenever it rains, and as a result, the area is hit by occasional floods.
One of the residents, named Ms Mary Duodu, said although certain parts of the community are well developed, with roads and gutters, it seems to her that other parts have also been ignored, especially, the Police Depot, by city authorities.
She said, each year, some officials visit the area to give them assurance that the drains would be constructed to prevent the occasional floods, which are destroying their properties, but nothing had been done about the situation.
She, however, expressed worry that since the drains were not constructed as promised by the officials, some residents had taken advantage to use portions of the existing ones as refuse dumping sites, because of lack of waste collection containers in the area.
'What worries me most is that these drains join the underground drains of the Kaneshie-Mallam roads. My sister, you will not get a place to stand or pass when it starts to rain. The main road also gets flooded, because the drains are choked.'
She also complained about the devastating state of the road, which is used by many motorists to avoid the traffic congestion on the main roads.
About a year ago, the underground drain was heavily choked with refuse, which resulted in flood damaging the road and some vehicles.
When the Accra File questioned the residents about the waste management company supposed to be responsible for the collection of waste in the area, they surprisingly did not know, and could not even tell about the AMA re-zoning agenda, free distributions of waste bins, sanitation inspections, and the courts that prosecute individuals who falls foul of the assembly's by-laws.
The file noted that the residents were using a drain as a place of convenience, aside the dumping of refuse, and surprisingly, this particular drain is alongside the walls and a portion of the Accra Academy Senior High School, and produces a very terrible stench.
One can also imagine how easy the students can be affected with communicable diseases such as cholera, diarrhoea, malaria, and other forms diseases.
This however, shows how narrow people's minds are about the works of the assembly, environmental cleanness and personal hygiene, and how limited the AMA was in discharging its works and disseminating information to the members of the community, especially the grassroots level.