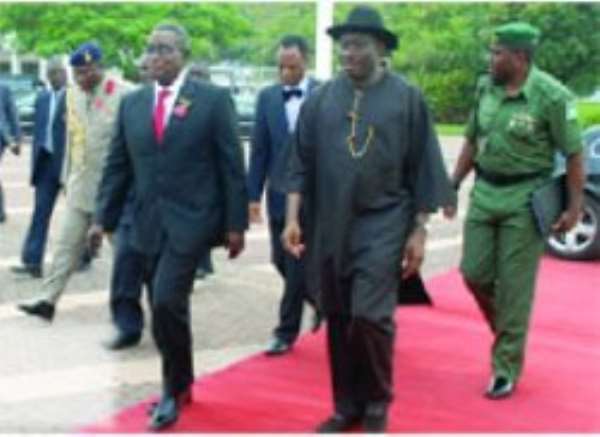 President Mills being led by President Jonathan (right) on arrival at the Abuja International Airport.
President John Evans Atta Mills yesterday held bilateral talks with his Nigerian counterpart, President Goodluck Jonathan, and declared Ghana's readiness to support the successful conduct of the general election in Nigeria.
He also urged Nigerians to support their leader to deliver a free, fair and transparent general election scheduled for next year.
In his remarks before the talks between the two leaders retired into a closed-door session at Aso Rock, Nigeria's seat of government, President Mills said the ability of Nigeria to conduct the polls without acrimony and confusion would send a clear signal to the world that Africa was blazing the trail for transparent democratic practice.
The two leaders also used the occasion to deliberate on some issues confronting the sub-region and parts of the world which needed urgent attention.
President Mills gave similar support and encouragement to the people of Cote d'Ivoire a couple of months ago when he urged them to do everything possible to consolidate democracy in that country.
"It is Ghana's desire and prayer that the elections in Nigeria are conducted in an atmosphere of peace and without rancour," he said, adding that the successful conduct of the general election would further enhance the image of Nigeria and serve as proof that the people of Nigeria had come to accept democracy as the best form of governance.
President Mills pledged Ghana's support for and solidarity with Nigeria and President Jonathan, adding, "We have a common interest which is crucial to protect our people."
He recalled the bond of friendship between the two countries dating back to the pre-independence era and underscored the urgent need to consolidate that bond.
President Mills, who expressed delight at the visit, also congratulated President Jonathan on his leadership role as Chairman of the Economic Community of West African States (ECOWAS).