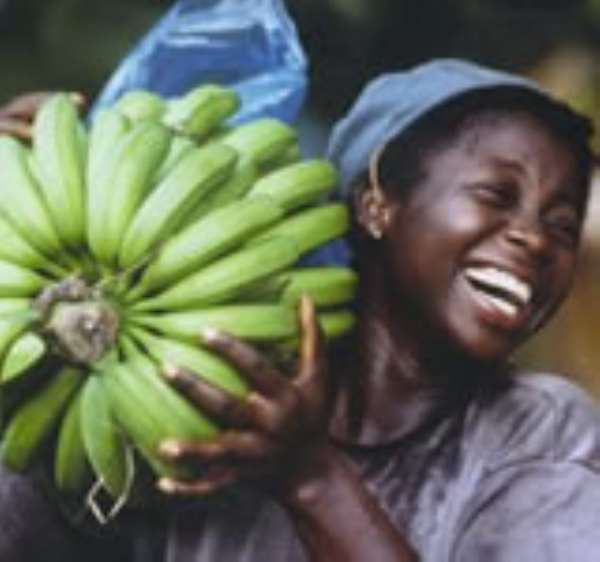 Madam Queronica Quarteley Quartey, Action Aid Ghana (AAG) Policy Advisor, on Saturday stated that the right to food was a common human right issue in Africa.

She said the type of food one chose and the time the food was needed were the basic foundation.

However, many people in the world remained in hunger because of poverty, she added.

Madam Quartey said this during this year's celebration of World Food Day in collaboration with AAG's partners in Bolgatanga.

Madam Quartey, who spoke on the theme; "United Against Hunger: Prospects and Challenges of Comprehensive African Agricultural Development Programmes (CAADP), EPAs and Biofuels," said AAG was still committed to direct intervention of building the capacity of the poor and vulnerable to enable them to stand up for their rights, especially for food.

She said AAG was committed to the CAADP because it provided increased opportunities for increased and dynamic markets for agricultural products.

She said CAADP aimed at improving the agricultural sector by focusing on small scale farmers to increase food supply and reduce hunger.

Madam Quartey said only seven per cent of arable land in Africa was cultivated even though it had so much rain that got wasted, saying that the right to food went along with the right to productive resources including land.
Mr. James Kusi-Boama, Programme Manager of Action Aid, Upper East Development Programme, said current farming methods focused on utilisation of chemical fertilizers and mechanisation of production adding that such efforts were far distant from the professed commitment to fight climate change and to support small scale agriculture.

He said that approach to agriculture was not healthy for sustained food production as it led to over reliance on agro forestry and depleted the farm lands of nutrients.

He mentioned that AAG had provided three dams and three tube wells for improved access to water resources for over 3,000 farmers in 10 communities in the Bawku West and Talensi Nabdam Districts.

Mr. Epsona Ayamga, Municipal Chief Executive of Bolgatanga, said 10 communities in the Upper East Region had been earmarked for citing of dams for water harvesting purposes with the aim of improving irrigation activities.

Mr. Ayamga said government was initiating efforts for the agricultural sector to refocus on irrigational activities adding that the poor rainfall pattern affected food production in the region.

He commended farmers in the region for working hard to reduce hunger and appealed to them to stop confiscating the farm lands of widows so as to give the women a chance to work to cater for themselves and their children.