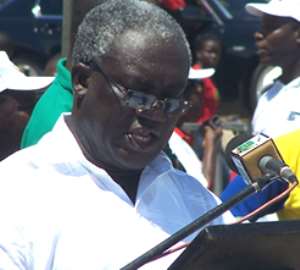 Workers in Ho have resolved to support the planned demonstration of the Trades Union Congress (TUC) in opposition to the recent hikes in utility tariffs.

At the close of an emergency meeting of the Ho District Council of Labour (DCL) on Tuesday, representatives of the various trade unions picked up red bans to signify the readiness of members to take to streets.

Councils of Labour meetings have been slated simultaneously for Tuesday in all the ten regions of the country, except the Western Region, which would have its' meeting on Wednesday, to galvanize support among workers for the TUC action.

Mr Kwabena Nyarko Otoo, Director, Labour Research and Policy Institute of the TUC, told the meeting that Labour's dialogue with the Public Utilities Regulatory Commission over the issue had been fruitless.

He said the remedy now was for government to devise means of assisting workers and Ghanaians from the exorbitant tariffs.

Mr Otoo said government would either have to subsidize the tariffs or pay the huge debts it owe to the utility companies to ease the tariff burden on consumers.

He added that it was not acceptable for government to shelve progressive increases in tariffs for political reasons.

Mr Otto complained about the inclination of governments over the years to do the biddings of the international finance agencies, wondering whether their mandates were from the people or those agencies.

"Government is subject to the will of the people of Ghana and none else," he stated, stressing that the Labour position was not against any political party but was in the interest of Ghanaians.

He noted that independent assessors of the recent tariff increases indicated higher percentage increases of between 100 and 150, far higher than the up to 86 percent announced.

Mr Jacob Otum, Deputy General Secretary of the Construction and Building Construction Workers Union, said the issue was not for the Ghanaian workers alone but for all since the current rates could collapse businesses and result in unemployment.

He said workers would act if within a week of flying the red banners if government fails to intervene.