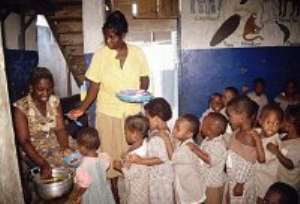 The Ghana School Feeding Programme would cover over one million pupils by the end of 2010, its secretariat has said. The programme which was started in September 2005 on pilot basis with one school from each of the 10 regions now covers 656,624 pupils from 1,698 basic schools across the country.
Mr. Francis Gyarko, Deputy National Coordinator of the Secretariat, who was speaking at a stakeholders meeting on Sunday, cited inadequate funding, lack of private sector participation and weak monitoring and evaluation systems as some of the challenges that had plagued the system. He noted that the
GSFP which was initiated as part of the United Nation's Taskforce on Hunger and the Comprehensive African Agriculture Development programme, was aimed primarily at reducing hunger and malnutrition among school children.
"It was also intended to boost enrolment and retention of pupils and create opportunities for improving local farmers' production," he added. He expressed concern about the lack of procurement procedures to guide caterers and suppliers of food for the programme.
"To date, the only guideline for food procurement under the programme is that all foods procured must be locally grown in the district, the region or at worst within the country," he explained.
Mr Gyarko called for more community participation because it would ensure the sustainability and the growth of the programme.
He called for the creation of appropriate policies that would link markets to farm produce for the School Feeding programme. A closer collaboration with all stakeholders, capacity building workshops for caterers and adequate storage facilities for the Programme are also necessary.
He urged the stakeholders to support the GSFP to function effectively. The Joint Aid Management, an international organisation headquartered in the US, with the primary aim of seeking financial support to for child education in Africa, organised the stakeholders meeting.
Mr. Isak Pretorius, Chief Executive Officer of JAM, called for the needed assistance for the School Feeding Programme across the continent since it had now become a developmental issue. "More enrolment of kids in schools does much in getting more persons educated for the betterment of the continent," he added.