Job for 1,200 women by DCE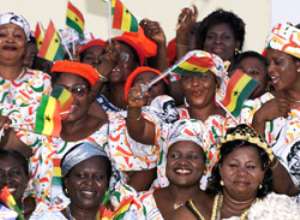 ABOUT 1,200 traders of all categories in Kumasi might benefit from a special poverty reduction package initiated by a Kumasi businessman.
Mr. Kweku Owusu, proprietor of Kwaku Owusu Enterprise, general merchants, has guaranteed for loans to be advanced to a group of 200 traders in Kumasi. The number of beneficiaries are expected to soar to 1,200 by December.
According to Owusu, he is negotiating with the Ministry of Women and Children's Affairs for the disbursement of ¢1.6 billion through the First Allied Loans and Savings Bank, which is currently working out the modalities.
He said he had already opened job avenues for about 380 traders, mainly women, to earn a living.
Under the package, goods are credited to the women who pay later, while they generate income to enable them to be on their own.
Owusu, who claims commitment to wealth creation to supplement government effort, also intends to establish a tomato processing plant in Kumasi to cater for about 150 workforce. A three acre land has been acquired for the installation.
He expressed the hope that the $800,000 plant would cater for tomato growers in the Konongo-Odumasi, Ejura-Mampong and the Bosomtwi and Amansie districts.
The plant, which installation is sooner than later, would also cater for the processing of pepper, beans and other legumes.