I've Not Been Dismissed From Black Stars - Goalkeeper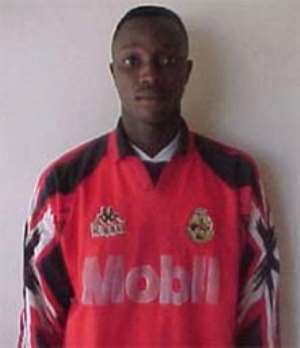 Isaac Amoako, number one goalkeeper of B.A. United football club and member of the senior national football team, Black Stars has dismissed allegations that he has been dismissed from the national side.
Speaking to the press, the fast-improving goalie exonerated coach E.K. Afranie over the allegations that the latter deliberately dropped him and replaced him with keeper Louis Quainoo of Kumasi Asante Kotoko.
"My last-minute replacement with the Kotoko goalkeeper was my own making and not any diabolical plan by anybody to sideline me as some people suspect," he said.
Explaining the circumstances leading to being dropped from the national squad for the Sierra Leone match, Amoako said he travelled to Sunyani from Winneba one Saturday and could not return to Accra in time to take part in a justify-your-inclusion exercise.
"Even though it is true that I was not in the squad for the Ghana-Sierra Leone international friendly match, I did not see the misfortune as a dismissal from the senior national team."
He stated that the vehicle on which he was returning to Accra from Sunyani broke down near Nkawkaw "and we were stranded for more than five hours".
Goalkeeper Amoako said when he got back to camp, Coach Afranie made him understand that the final team for the friendly international match had been selected, as I could not arrive earlier.
On his being dropped from Satellites, the national under-20 team goalkeeper said whilst at the Black Stars camp in Accra with his colleagues, "Coach Adusei rang from Winneba and informed our handlers to allow goalkeeper
Jonathan Quartey of Liberty Professionals and I to join the Satellites in Camp in Winneba.
"We went but it was Quartey who was selected."
Amoako, said he rang Isaac Paha, the then assistant coach of the Stars and told him. Paha asked him to report to the Black Stars' camp the following Monday "and it was while returning to Accra that our vehicle developed the fault".
Amoako appealed to his sympathisers to calm down because "all is not yet lost on him as a potential national goalkeeper".