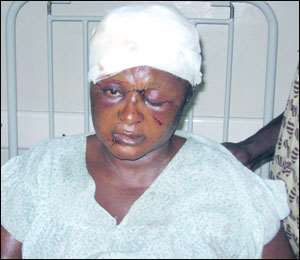 Victim! Janet Dwamena Agyapomaa on hospital bed
J ANET DWAMENA Agyapomaa aka Yaa Kwahu, a 42-year-old resident of Obuasi Pomposo, has been revived from coma after a Roman Catholic Priest, Rev. Father Charles Asamoah, allegedly inflicted multiple cutlass wounds all over her body when their secret relationship turned sour.
The woman, who claimed to be a girlfriend of the priest's, was found in a pool of blood on Thursday morning at a roadside at Bodwesango by some passersby who rushed her to St. Louis Hospital in the community before she was referred to AngloGold Ashanti Hospital in Obuasi.
Rev. Fr. Charles Asamoah, Parish Priest of the Bodwesango Catholic Church, has been arrested and detained by the police in Fomena in connection with the incident.
According to the victim, she visited the priest, whom she had befriended for close to three months, at his mission house last week, only to discover that another lady was holed up there in a nightgown.
Yaa Kwahu told DAILY GUIDE on her hospital bed that Rev. Asamoah introduced the new lady to her as his sister. But she found out later that the woman was her rival.
"The Father then requested to breakup with me, for which I demanded a compensation of GH¢500 after knowing the truth," the victim recounted.
She said the priest bargained for GH¢200 but she insisted on the GH¢500, which she went for on Wednesday in the company of a friend at the mission house.
"As we were about to take a car from Bodwesango Lorry Station  to Obuasi, Father Charles called my cell phone and requested me to come over because he could not stand losing me to someone else, while my friend continued the journey."
Not suspecting any foul play, the victim said the Parish Priest, who had conspired with his house boy, by name Frimpong, to eliminate her, demanded that she passed the night at his place, during which he beat, clubbed and hacked her with a machete.
According to Yaa Kwahu, this was after Fr. Charles Asamoah had attempted to take back the GH¢500 compensation at knifepoint, which resulted in a struggle between them.
"He then started hitting my body with a club and stabbed me several times in the head with a knife, while Frimpong kept watch.
"When I asked the priest if he wanted to kill me, he responded 'yes' with the explanation that I'm a threat to him and could cause him embarrassment," the victim stated.
She said the Parish Priest, who was bent on sending her to her grave prematurely, violently took away the GH¢500 in addition to her own GH¢60, plus a mobile phone before he carried her in his car and dumped her at the roadside at dawn, with the assistance of his house boy.
Father Charles, who also sustained cuts on the mouth during the struggle, has since received stitches at the AGA Hospital.
Until his new appointment at Bodwesango, the Parish Priest was at Akrokerri after moving from Obuasi.
ASP M. K. Oduro, Fomena District Police Commander, confirmed the incident and subsequent arrest of the suspect to DAILY GUIDE , but declined to make any further comment except that the case was under investigation.
Relatives of the victim told DAILY GUIDE some Catholic priests in the golden city had paid a visit to Yaa Kwahu upon hearing the story, which was considered scandalous to the church.
From Ernest Kofi Adu, Obuasi