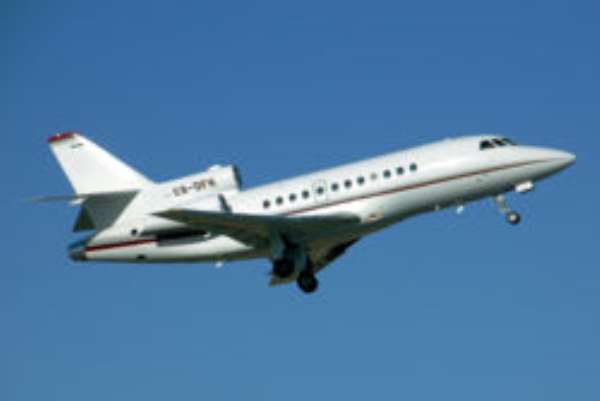 The Vice President said the final agreement for the purchase of the aircraft was subject to Parliamentary approval

The Brazilian government is extending a credit facility to Ghana to acquire a jet for the Ghana Air Force to facilitate its operations.
The 90-seater plane, known as ERJI90, is being manufactured by Brazilian Aeronautics Company Inc. (Embraer), a Brazilian aerospace conglomerate.
This came to light when vice-president John Dramani Mahama, who is currently on a visit to Brazil, toured the production facilities and engineering/design offices of Embraer in Sao Jose dos Campos, Sao Paulo.
The Vice President said the final agreement for the purchase of the aircraft was subject to Parliamentary approval.
According to him, the Ghana Air force had already sent a technical team to Embraer to sort out a few details in respect of the aircraft. "A technical team from the Air force came here about three weeks before we arrived and so ours is just to finalise the political aspect and it will go to Parliament.
"Once Parliament approves it, the contract is signed", the Vice President indicated. Even though Mr. Mahama did not disclose the amount of money involved, he mentioned that it was a "Brazilian Exim Bank facility and it is payable in about 10 years at 2.5 per cent interest rate with two years' grace period. It is one of the lowest interest rates".
He praised the company for fast-tracking the contract to enable Ghana to acquire the aircraft in 10 months instead of the normal 24 months' period because of the good relationship existing between Ghana and Brazil.
The vice-President said the decision to acquire the aircraft for the military was to give it a better operational efficiency, adding that "normally, when they want to move troops, they have to rely on the United Nations (UN) to charter a flight for them." Mr. Mahama, who was accompanied by Mr. Kwesi Ahwoi, the Minister of Agriculture, and Mr. Seth Terper, A Deputy Minister of Finance and Economic Planning, appealed to Embraer to set up a mechanized facility to help maintain the aircraft by the Ghana Armed Forces.
On other areas of investment, Vice President Mahama explained that he was in Brazil to explore avenues for attracting Brazilian investors for social and infrastructural development. He said his delegation had held a meeting with Brazilian officials on the construction of another hydro-electric project at Juale on the Oti River. "Brazil has approved it but there are few stumbling blocks we need to clear so that that project can add another 100 megawatts of hydro-electric power to our generation", Mr. Mahama stated.
He said the delegation was also exploring the possibility of establishing a cashew processing facility to give ready market to cashew farmers in Ghana, particularly those in the Brong Ahafo Region and the northern part of the country.
"This should encourage us to think and believe that if we put in our best as Ghanaians, Ghana will become the next emerging economy in Africa", Mr. Mahama stressed.


Source: Daily Graphic/Ghana