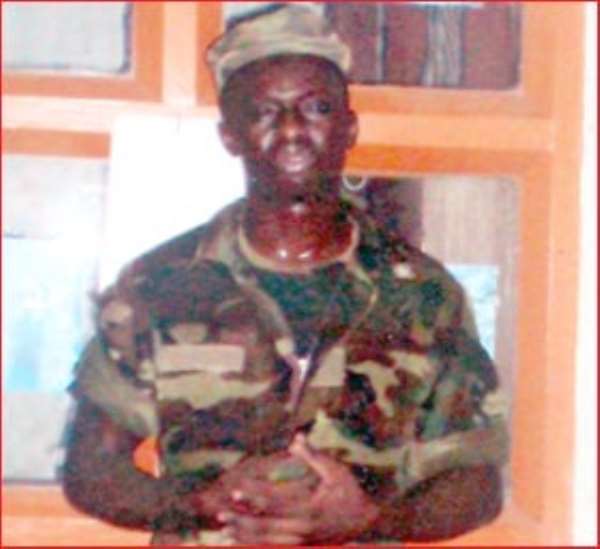 Michael Osei
MICHEAL OSEI Appiah, a 20-year-old unemployed man who posed as a private soldier in the Ghana Armed Forces has been convicted and sentenced to pay a fine of GH¢500 or go to prison for 18 months in default.
The new convict also risks serving another jail term should he go contrary to his newly signed bond of good behaviour for a period of one year.
He was convicted by an Obuasi Circuit Court presided over by Gilbert Ayisi Addo after changing his plea to guilty of impersonation, contrary to section 134 of Act 20/60.
Police Prosecutor, ASP Seth Sewornu told the court that the complainant was Staff Sergeant Boahen Noah of 4BN in Kumasi, who was on an anti-galamsey operation at AngloGold Ashanti in Obuasi.
The convict, on the other hand, is an unemployed school leaver resident at Bohyen-Asuogya in the Kumasi Metropolis.
According to the prosecution, on January 10 2010, at about 7:30pm, the complainant, who was dressed in mufti, met the convict on board an Obuasi-bound Metro Mass Transit bus in Kumasi fully dressed in the military uniform.
The complainant suspected that Osei Appiah was an imposter when he realized that the convict was not properly dressed to the standard of the military, he then confronted him in the bus.
ASP Sewornu said the convict insisted he was a regular soldier in the Ghana Armed Forces but could not produce his appointment card upon a challenge.
On arrival at the Obuasi MMT station, the complainant rang his colleagues in town, who came and assisted with the arrest of the imposter.
They later handed him over to the police, and after investigations he was charged with the offence and arraigned subsequently.
From Ernest Kofi Adu, Obuasi