Thousands Attend NDC Congress In Tamale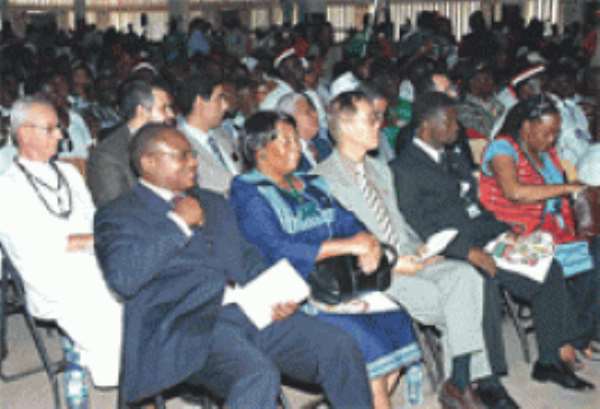 A section of the Diplomatic corp at the congress
Thousands of sympathisers of the National Democratic Congress (NDC), including visitors across the length and breadth of the country and the world at large, thronged the Tamale metropolis at the weekend to witness one of the most peaceful and successful party national delegates congresses in recent times.
The excitement that characterised the congress were conspicuous and memorable. The streets and the entrance to the West African Examinations Council (WAEC) Hall, the venue for the congress, were filled with party enthusiasts who were draped in NDC colours. The Choggu Roundabout in particular, which links the WAEC Hall building, was awash with NDC colours and the portraits of the 64 candidates vying for various positions in the party.
Vehicles were not left out, as most of them were decorated with portraits of the candidates vying for nine positions in the party. Indeed, the vehicular traffic was heavy and vehicles spent several hours to meander their way through the Choggu Roundabout-Tamale Sports Stadium road that links the WAEC Hall building, as security personnel had erected a number of barriers along that small stretch of road.
The security personnel had a herculean task controlling the ecstatic crowd, both within and outside the WAEC premises, who were in a carnival mood, drumming and dancing and cheering their respective candidates on.
Dealers in NDC paraphernalia also had a field day while food vendors cashed in on hungry delegates. An Accra-based trader, Madam Afia Dadziwa, who interacted with the Daily Graphic, claimed sales were quite good although she could not readily disclose the amount of money she had bagged so far.
Unfortunately, as the excitement about the congress continued, three persons collapsed due to asthmatic attacks and the viagal crises (low heart beats) and were rushed to the Tamale Teaching Hospital (TTH). Another person sustained a head injury as he hit his head against a chair, but had since been treated and discharged from the hospital.
A Specialist in the Anaesthesiology and Intensive Care Unit at the TTH, Dr Thomas Anabah, intimated that cases identified by his team of health personnel on duty at the WAEC Hall included tiredness, indigestion, ulcer, stomach ache and headaches, stress and high blood pressure, among other illnesses.
He, therefore, advised people to take their health seriously and to ensure that they rigidly took drugs prescribed for them wherever they went in order to avoid such incidents.
"Many of the people here are hypertensive and some have chronic ulcers, while others too have been medically advised to avoid shouting on top of their voices," Dr Anabah said.
Residents, including visitors, expressed joy at the professional manner in which the security personnel handled the security situation, culminating in the successful hosting of the congress. The voting, counting and declaration of the results went on smoothly without any hitch. Share Your Thoughts on this article Name Email Location Comments Graphic Ghana may edit your comments and not all comments will be published