Guinea Junta Head Leaves Hospital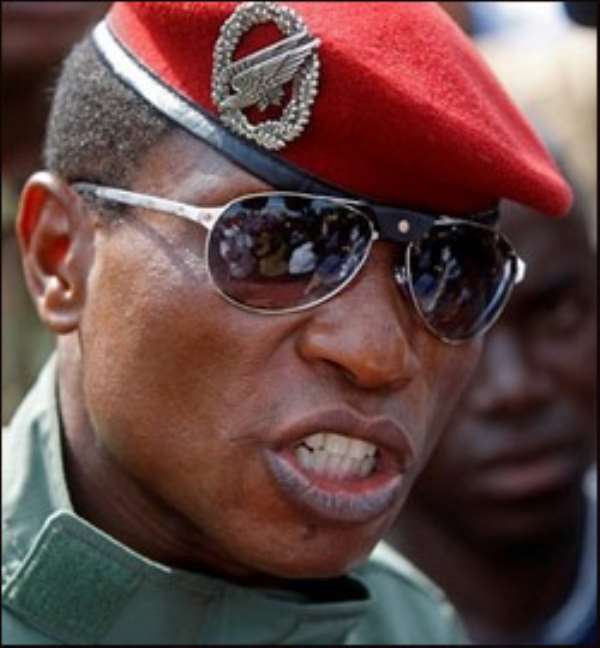 Captain Moussa Dadis Camara
Guinea's junta leader has been taken to Burkina Faso after six weeks in Morocco being treated for a bullet wound.
Eyewitnesses said Capt Moussa Dadis Camara, who was shot by an aide last month, had to be helped off the plane.
The authorities in Burkina Faso say he will continue recuperating there, but no-one has explained why he is not returning to Guinea.
Burkina Faso's leader is mediating in the crisis in Guinea, which has been in turmoil since a December 2008 coup.
Capt Camara was receiving medical treatment in the Moroccan city of Rabat after being shot in the head by an aide on 3 December.
Camara 'lucid'
An adviser to Burkina Faso President Blaise Compaore told the Associated Press that Capt Camara had travelled to the country "to finish his medical treatment".
AFP news agency quoted an aide to Mr Compaore saying that Capt Camara, who has not been seen in public since the attempt on his life, was "lucid and speaking".
After a recent visit to Capt Camara, Guinea's interim leader Sekouba Konate said his life was not in danger.
Western diplomats have been putting intense pressure on the country's junta to restore power to civilian rule, some suggesting that Capt Camara should not return to Guinea because it would destabilise the country.
International condemnation followed a crackdown by the security forces on pro-democracy protesters at a rally in September.
And a recent UN report held Capt Camara responsible for the brutal suppression.
On Tuesday, the UN West African envoy warned that Guinea's conflict could spill over into the region if left unaddressed.
Said Djinnit told the UN Security Council he was encouraged that Guinea's interim military leader General Konate had begun talks with opposition parties about a transition to civilian rule.
But Mr Djinnit stressed it was crucial that this be accompanied by reform of the security forces.
He urged the UN and others to respond to Gen Konate's call for support to train and reorganise the army.
Source: BBC