NDC goodwill and popularity deplete under Mills - Rawlings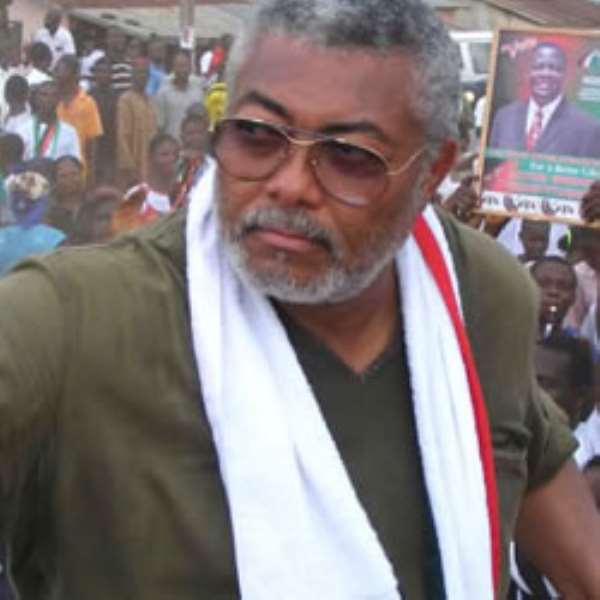 Ex-President Rawlings
The legacy of the one year old Mills government is a depletion of goodwill and popularity of the NDC, ex-president Rawlings has said.
In assessing the performance of the Mills-led administration, ex-President Rawlings challenged critics to take a taxi ride in Accra and see if anything good would be said about the government.
He was addressing party supporters in Tema as part of the one year anniversary celebration of the Mills-led government.
John Mills was declared winner of the 2008 highly competitive elections on January 3, 2009 after two general elections went deadlock. He was subsequently sworn into office on January 7, 2009 during which a plethora of promises were made to the electorate.
A year down the line, Mr Rawlings said the government has yet to fulfill the promises made and has rather succeeded in deceiving themselves that the party is performing.
He said he will not be cowed into submission and accused leadership with "little mouths" for ignorantly criticizing him.
Reacting to comments that he made no financial contributions towards the party's victory, ex-president Rawlings said his contributions far surpasses any monetary value contributed.
"What I brought on board your/their money cannot buy it. The integrity I brought on board, their money cannot buy. I brought blood onto the table some of my colleague soldiers, personnel who have died, you dare to open your mouth to tell me what money has been brought onto the table," he sniped.
He accused leadership of rendering him redundant only to turn around to implement his own policy initiatives.
"The number of times I told them draw a programme for me, I could start in Accra. Before I would say jack, they have drawn up a committee to go and engage Accra in a programme that I wanted to do.
"And I ask myself what can you do? What team are you going to put together? What can you do in Accra that I couldn't do five or ten times more," he quizzed, provoking a thunderous applause from supporters.
Story by Nathan Gadugah/Myjoyonline