Kufuor leaves for 57th session of UN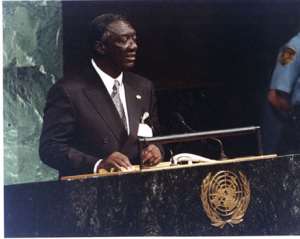 The President John Agyekum Kufuor left Accra last night for the United States of America to attend the 57th session of the UN General Assembly.
The Vice President, Alhaji Aliu Mahama, some ministers and the Inspector-General of Police, saw off the President who was accompanied by the Foreign Minister, Mr Hackman Owusu Agyeman, at the airport.
The meeting is President Kufuor's maiden attendance, since he assumed office, and he is expected to address the assembly on Monday.
While in the US, the President is expected to hold bilateral discussions with other world leaders as well as discussing the NEPAD, and find ways of seeking assistance from the International Community.
According to the Foreign Minister, President Kufuor would also visit Utah where he would meet with Information Technology (IT) Companies, with the view of attracting them to Ghana.
He would also visit the salt industry at Utah, where he hopes to woe investors to Ghana to participate in the President's Special Initiative on salt to help the industry to grow.