One killed at NDC constituency congress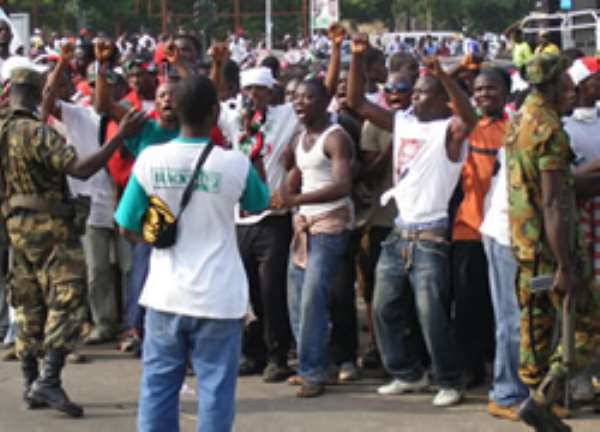 A group of NDC supporters who besieged the offices of the Electoral Commission demanding the declaration of the 2008 election results
One person was killed by a stray bullet when the police fired warning shots at the Effiduase Asokore Constituency delegates' conference of the National Democratic Congress (NDC) at Effiduase in the Ashanti Region last Sunday.
The police said the deceased, Modereka Mamuda, 35, was hit in the midsection and the thigh when the police fired the warning shots to disperse a group of trouble makers at the conference.
The remains of the deceased, described as a member of the Effiduase Zongo branch of the NDC, have been deposited at the morgue of the Komfo Anokye Teaching Hospital (KATH) pending autopsy.
In the heat of the disturbances, a police vehicle had its windscreens smashed.
Tension had been building up prior to the conference with a section of the party executives issuing a statement warning against the machinations of the constituency chairman, Alhaji Issah Adama aka Malala, to retain his post.
Superintendent Alex Amenyo, the Divisional Police Commander at Effiduase, told the Daily Graphic that following the tension that had been building up to the conference, security was tightened at the congress centre.
He said it was decided that people who had no business with the polls would not be entertained at the polling centre at the Nyarko Sefa Hotel.
The police, therefore, ensured that only accredited persons were allowed into the centre.
Superintendent Amenyo said a group of party members decided to force their way into the hotel but the police tried to keep them at bay.
"They gave us a hell of trouble but we remained calm using minimum force to deal with them," he said.
The divisional commander continued that at about 5:15p.m. when voting had ended and counting of ballots was about to begin the situation exploded.
According to him, the mob started throwing stones at the police and the police responded with the firing of warning shots, one of which hit the deceased.