President saves millions using lean convoys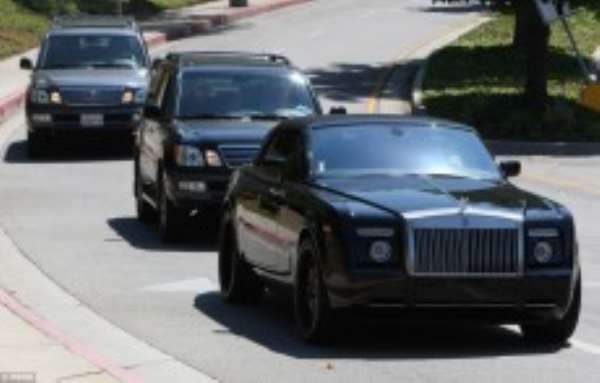 A maximum of six or slightly higher number of cars are used by the President depending on the occasion and distance.

Enquiries by 'The Heritage' newspaper have revealed that the decision by the President, Professor J. E. A. Mills, early this year, to drastically reduce the number of vehicles in his convoy has saved millions of Ghana cedis for the development of the country.
The Mills-led administration, in line with the National Democratic Congress campaign promise to cut down ostentation if voted into government, has for the past 11 months employed a lean presidential convoy.
Under this administration, a minimum of three and a maximum of six or slightly higher number of cars are used, depending on the occasion and the distance. That is in a sharp contrast to the over 20 vehicles that became the norm under previous administrations.
A government source contended in an interaction with 'The Heritage' newspaper over the weekend that, "Considering the huge number of travels that the president has to make within the country, and the quantum of fuel involved, the amount accrued over the past months runs into millions of cedis.'
The source noted that, in line with the style of the president, every pesewa saved by the austere measure would be "appropriately channeled into the development of schools, health centres and the provision of pipe-borne water to the millions of Ghanaians who are walloping in abject poverty."
The source added that Prof. Mills has not only used the country's resources judiciously, but also contributed immensely to reducing the heavy traffic on most of the busy streets across the country.
"The president has lived at the Castle (the seat of government) and effectively performed government business for more than 10 months; that, for me, is enough to show how concerned he is about the canker of traffic in the capital," it said.
Comparing what pertained under the erstwhile NPP regime to the current government, the source said, "Former President John Agyekum Kufuor operated from his Airport residence for the first 10 months, after renovating his residence and throughout his eight years of reign. "In contrast, the current president has functioned at the Castle, instead of his residence at Regimanuel Gray on the Spintex road in order not to compound the already heavy traffic situation there."
Noble as the law professor's resolve to reduce the number of vehicles involved in the presidential convoy may be, many concerns have been raised regarding his safety in a small convoy.
Political and security analyst, George Kuntu Blankson of the University of Cape Coast cautioned the presidency to increase the convoy to 10 or 12, depending on the security situation in an area of visit.
He praised Prof. Mills for fulfilling his promise of running a lean but very effective administration and cautioned officials to emulate the father of the nation so that the 'Better Ghana' agenda could be achieved.