AMA attempts to pull down 13-storey building at Shiashie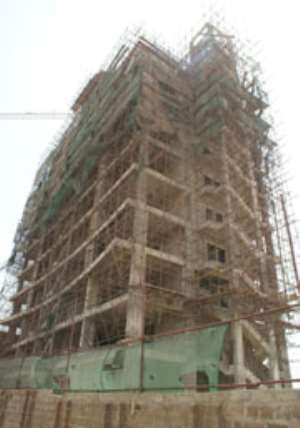 The Accra Metropolitan Assembly (AMA) attempted to pull down a 13-storey building, which is being used as offices at Shiashie East Legon, a suburb of Accra, but the Project Coordinator stood firm and stopped the action of the AMA, claiming that the site of the project was legal.
The AMA's reason for the demolition exercise was because the ongoing project had no permit or any legal documents.
According to the head of the Task Force, Mr. Joseph Nii Okine, the AMA earlier visited the site, and asked contractors to stop construction until they acquired the permit.
"We even visited the place last Saturday, and we realised the construction was still going on," he added. He said this prompted the AMA to take legal action.
The owner of the ongoing construction, Chief Yaw Kumey, said, "We are investors, we are modifying the city, you cannot say because we have no permit, you are going to destroy our sweat," he said.
He threatened to deal with the AMA if it attempted pulling down the building.
According to him, when they began construction of the project, they first demanded a permit, and then went through all processes to get the permit, but all proved negative.
He said they were given a provisional permit to begin the process of construction.
"Why is it that when the building started, you people did not stop us till now? If you are men, just pull it down. If you pull down this building, it will go against this nation," he said.
The project was begun in 2007, with 300 investors involved in it.
He further provided certain documents and permit forms to the AMA, to prove that he was in the process of getting the permit. But, the AMA claimed he had a building permit form, and not the permit.
He still insisted that he had the proper documents, thereby compelling the taskforce, together with some authorities, to verify from the Town and Country Planning Committee of the AMA.
Ms. Doris Tetteh, a staff of the Planning Committee who confirmed that the ongoing construction had no permit, said the committee visited the site on 2nd of December last year when the project had earlier began.
She said the committee told Chief Yaw Kumey that the site for the project was too small, and needed more land for free movement and space. "We told him to acquire extra land," she said.
With this, it came to a conclusion that Mr. Kumey was to stop construction last year, but he ignored the instructions of the AMA and proceeded.