Veep calls on tertiary institutions to focus on Science education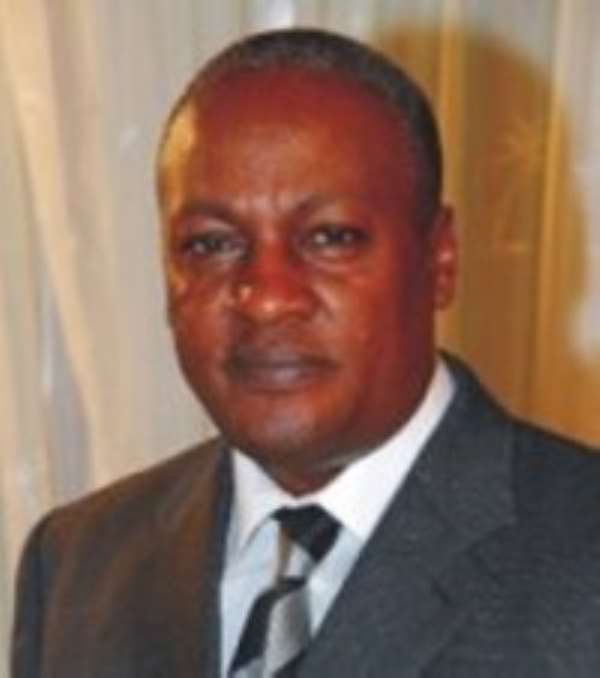 Vice President John Dramani Mahama
Accra, Nov 28, GNA - Vice President John Dramani Mahama on Saturday called on tertiary institutions to concentrate more on the training of human resource in Science and Mathematics to accelerate Ghana's development.
He said the challenges of the 21st century required a reorientation of the educational curricula towards innovative thinking and analysis to enable the country to meet the exigencies of contemporary times.
Mr Mahama made the observation when he addressed the maiden congregation of the Institute of Professional Studies (IPS) in Accra on Saturday.
Out of the 558 graduands, 5.38 per cent obtained first class, 24.37 per cent second class upper, 57.71 per cent second class lower, 12.01 per cent third class and 0.54 per cent pass degrees.
They were presented with first degree in marketing, accounting, administration among others making them to become the first batch of graduands to have received IPS branded degree certificates since the Institute introduced such programmes in 2005.
Vice President Mahama said: ''I believe Science and Mathematics are key to the accelerated development of our country".
He said that the country needed a new kind of educated people who would acquire knowledge and skills to address issues confronting the community in which they.
The Vice President said if Ghana was to take advantage of the oil and gas discovery, then there was an urgent need for universities to develop and train the right human resources to man the industry.
'"That is why the NDC Government is calling on the country's universities and research institutions to reposition themselves by engaging in activities that would meet the expectations of the oil sector' he said.
Vice President Mahama said by churning out more science and mathematics students, the country would not only be repositioning herself strategically to be able to attain the Millennium Development Goals but also become a self sustaining economy.
He said the phenomenal socio-economic transformation which had taken place in countries such as Malaysia, Singapore was due the development of the human resource base through relevant education.
Vice President Mahama said that was one of the key thematic areas of government because it was vital to the process of developing and nurturing the human capacity required for sustainable growth and transformation of the country.
He said government would continue to support school, especially the tertiary institutions to help address the socio-economic challenges facing the country.
Vice President Mahama noted that the small and medium enterprise sector formed the chunk of Ghanaian businesses.
He said people in that sector lacked requisite knowledge and skills to accelerate its development and called on IPS and other professional institutions to initiate professional and entrepreneurial programmes that would make graduates self-employed rather than looking up to government for jobs.
Vice President Mahama said would assist IPS to solve the drainage problem facing the school to end perennial flooding of some of its lecture halls.
Professor Joshua Alabi, Rector of IPS, called on government to increase budget allocation to the Institute to befit its current status as a fully fledged university.
He said plans were afoot for IPS to start an Annual Institutional Research aimed at providing research findings on Customer Satisfaction Index of health and communication sectors to offer a barometer of customer satisfaction in those sectors.
Prof. Alabi said IPS had set up a Quality Assurance Unit to get accredited to the ISO 9000 Quality Management Standard.
He explained that it was to enhance confidence in its management systems and products to enhance international acceptability and opportunities for collaboration.
Prof. Alabi said the Institute was soliciting support from banks to construct an SRC-Hostel next year to solve the accommodation problem of students.
Mr Justice Nii Aryeetey, Chairman of the IPS Governing Council, said the Council would in next year submit to the Ministry of Education proposals for the review of the IPS Act 566 of 1999 to reflect its university status.
The IPS, until September last when it received a Presidential Charter to run as a university, was an affiliate of the University of Ghana where its first batch of degree students graduated.
The IPS was established in 1965 as a private institution and taken over by government in 1979 and a subsequent Parliamentary Act enacted in 1999 transformed it into a tertiary institution. It currently has a student population of 6741.
Statistics show that 60 per cent of admissions into the country's universities constitutes students of humanities and the science and technology sector 40 per cent.
Meanwhile, Mr Mahama also inaugurated a newly constructed multi-purpose School of Research and Graduate Studies of the Institute to run Master of Philosophy programmes with fully networked computer library other facilities.
GNA