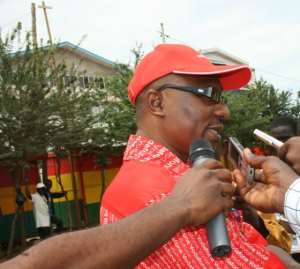 Mr Albert Don- Chebe Head of Corporate Communication addressing the media.
Accra, Sept. 11, GNA – Vodafone has, within the past five months, gained an additional 900,000 subscribers, taking its total number of subscribers in Ghana to 2.5 million, an official of the company said on Friday.
"Within the five months we have been here, we have had 900,000 more Ghanaians joining our network and currently we have about 2.5 million subscribers in total," Major Albert Don-Chebe, Head of Corporate Communications, told the GNA.
This was after the first of three major draws in the Vodafone Rewards Promotion, which will last till October.
The promotion, which Maj. Don-Chebe said was intended to reward customers for their warm reception of Vodafone to Ghana, would see an ultimate winner taking home a grand prize of a four-bedroom house and a 4x4 Nissan Pajero totalling one million dollars.
The entire promotion is worth US$2.2 million and includes 60 scholarships worth GH¢2,000 each, Yamaha laptops, motor bikes, ipods, Vodafone branded phones and 4x4 Nissan Pajero vehicles.
In the first draw Mr. Joe Habib, 34, a private lottery agent with Asare Original Pay All from Upper West Region won a 4x4 Nissan Pajero, five others won laptops, four won motor bikes, 10 won scholarships, 50 won ipods and 300 won Vodafone branded phones.
Maj. Don-Chebe invited more Ghanaians to connect to Vodafone, saying that there were more rewards in the pipeline.
"We are proud to have the biggest telecom company in the world investing in Ghana and I can assure you that we in Ghana only just call on our mother company to bring in the goodies and they will," he said.

He said Vodafone had introduced a wireless internet dongle which worked effectively anywhere in the country.
Touching on the ongoing compulsory redundancy exercise, he said persons earmarked to leave were served with letters last Wednesday and would be expected to finally leave in December.
"After the lay offs, Vodafone will still be left with 2,100 employees, which is about 100 employees more than all or any of our competitors," he said.
On the review of the Sales and Purchases Agreement (SPA) between the Vodafone Group and Government of Ghana, Maj. Don-Chebe said the review did not have any effect on the operations of Vodafone Ghana because it was between the owners of the company.
Maj. Don-Chebe also hinted to the GNA that possibly Vodafone will launch its 3.5G services before the close of the year.
Months ago, Vodafone awarded a US$12 million contract to Huawei to install 3G and 2G technology infrastructure across the country.
"The Huawei team will complete their work by November and we should go live with 3.5G before the year ends, but I need to speak with our technical team to get the specific time," he said.
GNA