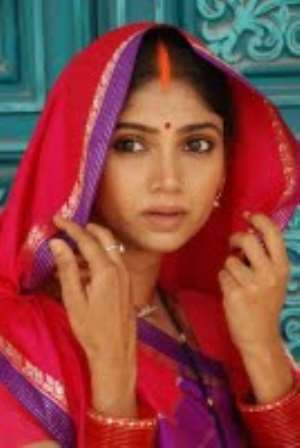 Lucknow: She epitomises the plight of girl children in India to the neglected, rejected, abused and sold off like property, "Laali", the character that Ratan Rajput plays in the popular tele serial "Agle Janam Mohe Bitiya Hi kijo", has become an instant hit with viewers all over . No prizes for guessing why.
In Lucknow recently to promote the Zee TV serial, 'Lalliya' as she is widely known now spoke to Citizen News Service (CNS) about her experience of playing a village lass who goes through the travails that are forced upon a girl child in India.
"When I used to hear these stories of girls being sold off in marriage and widely discriminated against in their families I thought they were just exaggerated versions of village tales. But when I was offered Laali's character I was taken aback at what was being described in the serial. I instantly called my mother in Patna in Bihar and asked her "kya aisa ladkiyon ke saath hota hai gaon mein" (does this happen to girls in the villages), and she said yes. That made me even more keen to do the serial so that we can tell people about it and motivate a change," says the petite Ratan Rajput.
Recalling her shooting days in the villages she describes how the life of a normal village girl is vividly portrayed in the serial.
"I thought I would be able to act out a village lass quite well. But that was not so, every minute that I observed the girls there I learnt something new about them. The way they walked, spoke and even the way they played with their hair and scratched it was very different from what we see in the city. I tried to incorporate it all in my character," she adds.
But did she expect it would be so difficult?
"More than difficult I would say that it was quite challenging. To put life into the Laali's character feel exactly what she feels and get the audience to identify with the shock and pain that she as a young child goes through. Laali has changed me completely, she has made me more sensible. The life that I lived for two months in the villages roaming the gallis barefoot and actually trying to reflect the true picture of the life that a girl child lives was extremely challenging," says the actor.
Nevertheless playing the character has been immensely satisfying for her she says, being a small town girl herself. "It's sad that today women are women's biggest enemy. Most of the atrocities that girls are made to go through are by women themselves. I understand that a woman has to fight for place in a man's world. 'Magar purusho se hum apna haq tabhi mang sakte hai jab hum auratein ek jut ho'(we can only ask for our rights in a world dominated by men if we women are standing together and united)" she believes.
Food for thought though it may be to ask Ratan what does she feel needs to be addressed at once by the government to improve the life of a girl in this country? And pat comes the reply, "Education for the girl child is must. Wherever I went in the villages it struck me how much a girl wants to study but is not allowed to or has financial constraints which prevents her from going to school. So I feel that the government should do as much as much as possible to help educate them."
While that may be a quite an expected response from the nation's darling "gaon ki beti" (girl child of villages), steer the conversation towards a personal note and the response is just as stoic. Even when quizzed about Ajay Balara who, if the grape vine is to be believed is much more than her co-star. Ask her was that true and she surprises you with,"Ajay and me are like Tom and Jerry. We just go mad on the sets and like to pull each other's leg. But beyond that there is nothing else going on."
Hmmm! If you say so Lalliya.
And what are her plans for marriage? "Well marriage is definitely a part of the plan but I need to find the right guy first. More than anything else he must be a very nice guy at heart."
So what's her take on "Rakhi Ka Swayamwar"? "I Have not watched the show and I don't plan to have a 'swayamwar' though," she laughs.
We hope not too Laali!
Anjali Singh
(The author is a Special Correspondent to Citizen News Service (CNS) and also the Director of Saaksham Foundation. Email: [email protected])