Government Dribbles Workers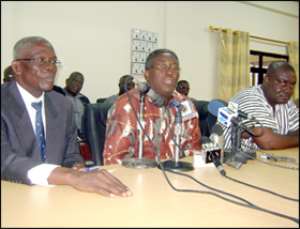 CSA Vice Prez, Tennyson Foli(L) with Prez Nii Robertson Allotey AFTER PATIENTLY staying put to their seats for over five hours, anxious looking government employees, who thronged the Civil Servants Association (CSA's) main auditorium yesterday for a sigh of relief on their salary structure negotiation between them and government, were disappointed because no possible agreement has been arrived at.
It was reported that leadership of the Association walked out of a similar meeting on Wednesday since both parties could not reach a consensus.  
Information whispered to pressmen was that for those long hours, leadership of the Association was in close consultation with government officials at the Ministries of Finance and Economic Planning and Manpower.
The negotiation process, according to the Civil Servants Association President, Nii Robertson Allotey, would continue on Monday, expressing optimism that "something good will definitely come out of Nazareth". "I think government would listen to us on Monday," he added.
Nii Allotey indicated that negotiation with government formed part of good governance and had been given options to comply. "We are waiting on government to come out with its options too".
Should all attempts fall on death ears, Civil Servants would hit the streets in solidarity to their equal demands.
He noted that during the meeting with government officials, it had been receptive to those options to the benefit of workers.
The association is calling on government to include its members on the 2009 salary enhancement daily national minimum wage of GH¢2.65, an 18 percentage point increase. In the previous year, it stood at of GH¢2.25.   
This 18 percent increment came as a big relief to the Employers Association and some economists who wanted to see an appreciable increment in the minimum wage, so as to make workers more committed than before.
It was revealed that members are currently below the national minimum wage, hence the struggle for equal pay.
However, negotiations for the minimum wage began a week before the presentation of the national budget in March this year but the parties involved could not agree to a figure before it was presented to parliament.
Indications were that some provision was made in the budget for the increase in the daily minimum wage.
By Nathaniel Y.Yankson