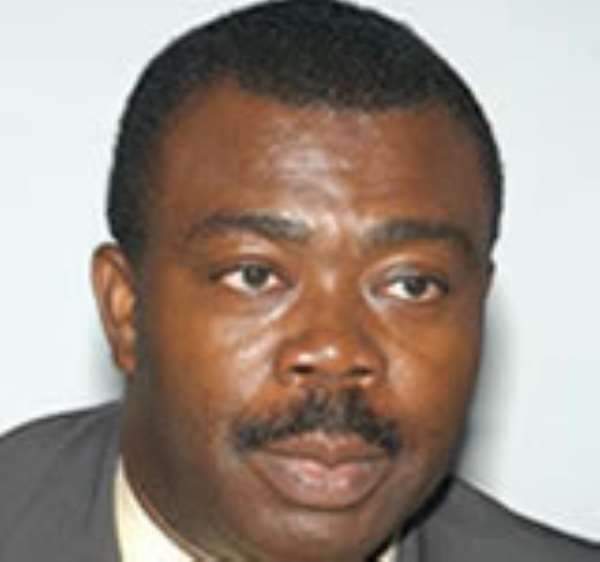 Former Information Minister, Stephen Asamoah-Boateng
My article, (published on your web on 22/06/09) "Tighten your belt Asabee!" got me besieged with gazillions of comments spamming my mail. I was hurled with names like idiot, brainwash fanatic, stupid, kwasiesem kwa and any other adjectives which you think qualifies Asabee. This article was a severe boxing on the most popular politicians of our time for "talking what he likes".
I was marvelled by reader's exasperations shown for it helped me to make further diagnosis of this Asabee man. However, may I ask if those readers where deaf or in a hole somewhere or were still with God in the just ended Era of Asabeeism.
Granted that these readers where non-existent in Asabee's days, then I will like to edify them that my article was just pseudo-Asabeeism. And if I had adopted the true style of Asabeeism, then they would have committed suicide for the kind of loose speaking we suffered in their non-existence. Or they would have wished I had taken Asabee for heavy-weight boxing rather than the bantam weight my article did.
However, if those who spammed me with outrage where breathing in Ghana or wherever, I would be sorry to give them back their adjectives and they should not hesitate to offer some to their Asabee. I never knew language meant a lot to people. If those people where discomforted or jarred by my critique, then I will entreat those readers to empathise with Ghanaians the emotional grilling a whole Minister of Information, Asabee, had subjected them to for good 8 years.
In any case, all the displeased readers who are fully aware of the bombshells that were periodically released by the Asabee man should kindly checkout for themselves a particular "F" word in the dictionary or go to hell in a hand basket!
If people were deafened and blinded by illogical political evil-dogmas and never had ears and eyes to hear-see the bad and the ugly, I would be grateful to offer them with the help of mighty T. B. Joshua for exorcism.
There are comments that I would not like to share with readers for it was ethnically sentimental and regionally divisive (What make you spammers different from Asabee). The topic sentence of the article was "Asabee and Language" and not His Excellency John Mahama, or northern parliamentarians, or northerners or all that "nonsenses" from those junk mails. But I am happy to tell the whole world that I am exceedingly PROUD as a NORTHERNER.
Let no one deceives himself or herself that I can be gagged or frustrated by mere disparaging comments against my background or fanning the long harboured fallacies/myths about the north.
"Tighten your belt Asabee" was an article methinks could help inject some sense in the man in question on the rubrics of language and the repercussions of traduce as a politician. I really never mean harm because criticisms correct.
When will people be fair to facts and realities? When The Hoity-toity was vomiting hogwash on the hoi polloi, people (Asabee-incarnates) saw nothing wrong with that! Madness! I am not pricked with the frivolous and hypocritical comments of those ass-kissers.
Watch out! I am coming out with excerpts of the most irresponsible talks of Asabee. Then the discerning Ghanaians will judge who wears the Crown of Irresponsibility in present day politics.
Salaam!
Abdulai Hanan R. Confidence
[email protected]
NTC, Tamale
TEIN (P.R.O.)