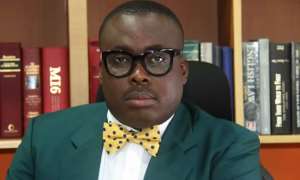 Paul Adom-Otchere, host of Metro TV's Good Evening Ghana
Dear Paul,
I watched your Good Evening Ghana last night. I sincerely want to advise you to pick up a form and contest for a position in the upcoming national elections of the NPP. I must admit that you are doing so well for the NPP lately. Last night program was like adding salt to an injury because I am yet to completely recover from the heart attack of your last program on Nana Addo and his Nima residence traders. Though it was gravely prejudiced and skewed, it turned out to be the best PR on the issue with your patch-patch video that kept words in the mouth of Felix Kwakye Ofosu.
Your jibber-jabber on the residence matter, for a very long time, made me lose my tolerance of naked truth-burying. So, I had no option than to leave you with five mean comments on the Good Evening Ghana's Facebook page.
Yesterday, I had to double-check to make sure that I was actually watching Good Evening Ghana on Metro TV. You sounded more Catholic than the Pope. Some of the unTV words Paul used repeatedly on Koku Anyidohu at point made me wonder if the latter had mounted the wife of the former. At a point, you almost used the "S" word - a near Freudian slip on live TV.
Paul, you made a montage (edited collection of videos) on Koku. You played it at almost every breath of the program with interjection of needless hyperboles. As a matter of fact, I find your emotional hyperboles of Koku's utterances very unfortunate though I don't support it. It was clearly melodramatic. You also forcibly showed, for want of a better expression, a 20-second GIF of Prof Addai (Gen. Secretary of Limann's PNP) to potentiate your drama. Paul, I must caution you that your new found orgasm in improperly edited videos to hoowink viewers or impress the NPP will be your nemesis.
The only person I can liken Paul's elephantine jibs to is Sir John. The John (colloquially) of all loose talkers! I was scandalised that Paul was talking in a manner that the leader of Invisible Forces will consider non-discretionary of a host.
When did "Good Evening Ghana" become "Majority Caucus" on Joy News; a program that affords the host and guests of a ruling party an unregulated gang-bang of their political opponents.
Paul, I am not asking you to be neutral. I am asking you to be fair. And you can be fair by simply restoring yourself to a previous state you function like a host and not a propaganda vehicle for a political party. Your temper tantrums and making a mountain out of a molehill on TV in recent times is increasingly making you a pawn in the face of patrons of Good Evening Ghana.
Good Evening Ghana undoubtedly has been an authoritative award-winning current affairs program in the league of News File. I don't think it is prudent to lower its standards at the behest of some NCA board membership appointment by the president. The program has screamingly degenerated into a de facto NPP PR outlet. And that stinks to the highest Heaven.
I have been loyal to Good Evening Ghana because of its topical relevance with guests who know their stuff. My loyalty also stems from the fact that Paul admittedly is a fine gentleman with humongous stature in journalism and his knowledgeable insights of Ghana's political history is noteworthy. So, one has to be worried when the host and the content of the program are at risk of a political dilution.
There is no problem if you want to rebrand the reputable program to propagate the ideals of the beast. But you won't have it your way by using the program as a smokescreen to ventilate your prejudiced and skewed thoughts and editorials. Mbano!
I entreat you to watch yourself in your recent Good Evening Ghana programs in your sober moments. You will disown yourself in one of the videos. You will appreciate that you were in your Tramadol elements.
Paul, please sit up and uphold the Good Evening Ghana brand because the program is becoming a sickening joke.
Sincerely yours
Hanan-Confidence Abdul
Loyal Patron of Good Evening Ghana
Abdulai Hanan R. Confidence
(0208455884)