Another doctors' strike looms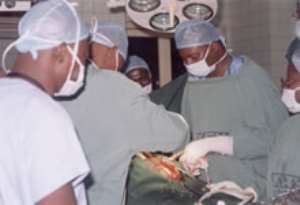 Doctors have warned of dire consequences if the Ghana Health Service fails to restore their suspended incentive package.
"If they stop that then the work is also going to stop, and the patients are going to suffer," one of the incensed doctors told Joy News.
The financial payment incentive package rewards doctors based on the number of patients they attend to and amount of income they are able to generate in a month.
Dr. Elias Sory, Director General for the Ghana Health Service, suspended the incentive package in the various public hospitals claiming it was instituted illegally.
He said the continued implementation of the incentive package is a recipe for disaster.
Dr. Sory argued the various institutions have created separate income generating systems which is contrary to financial regulations in the country.
He dismissed assertions that the package will encourage doctors to give of their best, saying, "I disagree with that totally and what I have seen is that people who are not even well qualified to do locum (sit in for a qualified doctor) go to do locum when they are not supposed to. It rather brings confusion in the system."
He assured a thorough review of all the packages will be conducted after which they will be re-instituted.
"What I have done is that I have asked them to put a hold on it, bring their request for authorisation for that to be regularised."
"It is possible the packages will be enhanced."
But the doctors are not impressed.
One of the doctors told Joy News, "What we do especially at the district hospital is far more than we are paid for and we do it because we are getting this incentive, otherwise we will be asking for over time."
He said the package received from this incentive varies. "Sometimes we don't get anything at all. Other times we get from one million cedis (GH¢100.00) to ten million cedis (GH¢1000.00) depending on how hard you work."
The doctors have vowed to go on strike if the incentive package is not restored.
Story by Nathan Gadugah/Myjoyonline