Mills' decision on Parliament - Worse ever: Owusu Agyepong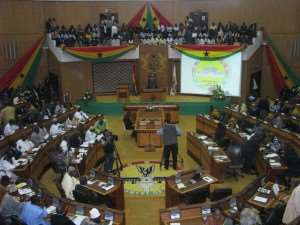 Former Majority Leader and Minister for Parliamentary Affairs, Hon Felix Owusu Agyepong says President Mills' decision to review the Chinery Hesse Committee report is the worst thing to have ever happened to Ghana's young parliamentary Democracy.
According to him, the decision would go a long way to weaken the nation's Parliament.
President John Mills has on several occassions stated that his government is committed to strengthening the nation's Parliament in order for it to play an effective oversight role over the executive.
However, speaking to Citi News, Hon Owusu Agyepong said the President has so far shown no commitment to ensuring that the nation's Parliament is empowered to strengthen its democracy.
Upon assuming office, President Mills scrapped the Ministry for Parliamentary Affairs, arguing that it was a tool used by past governments to manipulate the Legislature.
However, Hon Owusu Agyepong believes, the President, by his actions is lording his executive powers over the Legislature. He says the present situation is more dangerous than having a Minister for Parliamentary Affairs.
"Now if you are going to find an ingenious way of going to dilute what has been decided by parliament through another avenue, is it any more dangerous than having a minister of parliamentary affairs? Because now … if I take decisions and later on I know that somebody can find a way of diluting, undermining, changing it, the next time you begin to look behind before you speak," he said.
"In our time, we emboldened them to the level that they could say, Mr. President, we can't agree to this and that. That was the beginning of the empowerment of parliament."
According to him, 'that is how people are emboldened. To do that, there must be some considerations. That is when we decided that the committee should have budgets to be run by the chairman and his committee but if everything is going to be decided from the top, parliament will never be emboldened."