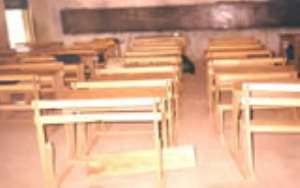 A-four-classroom block financed by Rev. Dr (Mrs) Iris Barnister, based in the US has been dedicated to the University of Education, Winneba Practice School.
The building was put up for Early Childhood Development division of
the school at a cost of US $150,000.
It was named after the Barnisters family in the United States.
Dr. Iris Barnister is a development Queen mother of the Effutu Traditional Area under the stool name, Nana Ama Bortsewa.
In a speech, Rev. Dr Barnister said as future leaders, children
must be supported to become responsible citizens.
She said Winneba is very dear to her heart and would continue
to contribute her widow's mite towards the development of the area.
Rev Dr. Barnister urged the university authorities to put all
hands on deck to sustain the facility.
The Pro Vice-Chancellor of the University, Prof Mawutor Avoke
who chaired the function, expressed the gratitude of the University to Rev Dr Barnister and assured her that the centre would be put to good use.
The Omanhene of the Effutu Traditional Area, Neenyi Ghartey V11
thanked Rev. Dr Barnister for her contribution towards the social
development of the area.
He noted that the environment counts a lot in the formative and
development stage of children.

An African-American and a Queen mother of Apatrapa in the Ashanti
Region, Nana Ama Serwaah Nyarko known in private life as Dr Beryl Dorsatt praised Rev Dr. Iris Barnister for donating the Centre to the University.
Dr. Dorsatt also donated assorted items worth US$500 to the centre.