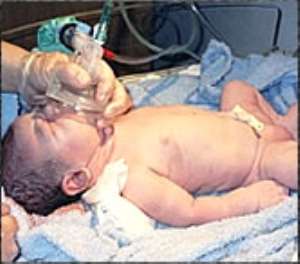 Ghana's Child Health Policy is being revised to include new interventions, Dr Isabella Sagoe-Moses, National Health Coordinator of the Ghana Health Service (GHS) said on Friday.

Speaking at the first Western Regional Maternal, Newborn and Child Care Conference organised by the Regional Directorate of Health Services at Takoradi, she said the new interventions would ensure consistency with international law and standards.

The current policy was developed in 1999.

Dr Sagoe-Moses said the revised policy would focus on improving coverage of essential services including quality and access to services.

She said it would ensure that majority of pregnant women deliver at health facilities to reduce the level of newborn death.

Dr Sagoe-Moses said the survival of the newborn could not be ignored if the mortality rate of children under five years was to be reduced.

She said available statistics indicate that many pregnant women still delivered at home in spite of government's free maternal care and delivery for pregnant women.

Dr Sagoe-Moses said it was not advisable for pregnant women to deliver at home and prayer camps because delivery could be complicated.

She said some of the reasons mothers had often cited for not delivering at the health institutions were lack of funds, cultural beliefs and unavailability of transport.