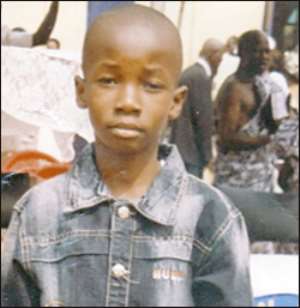 The deceased, John Oti Akenten THERE WAS uncontrollable wailing at Ntonsu in the Kwabre district of Ashanti region on Tuesday when the mortal remains of the 11-year-old boy who was mysteriously killed at Aboaso, a neighbouring town on Sunday, March 8, was laid to rest   
The body of the deceased, John Oti Akenten, was found in the bush at a riverside at Aboaso on March 15, a week after he was pronounced missing.
In typical ritual murder fashion, when the body of the class six pupil was discovered, the eyes, tongues, male organ, esophagus and other parts of the body had been removed.
The deceased met his untimely death when he was sent by his grandmother to send food as usual to his grandfather who lives at  Aboaso.
The Ntonsu L/A Primary School pupil, DAILY GUIDE gathered, has being sending food to his grandfather for the past two years without any problem until that 'black' Sunday when he met his ill-timed death.
Family members, school mates and well-wishers mourned as the body of the departed 11-year-old boy arrived in the town from the Komfo Anokye Teaching Hospital mortuary where an autopsy had been conducted.
School children, mainly those from his school, his age mates from the town and elsewhere, teachers, parents and guardians besieged the family house to mourn the deceased.
His parents Oti Aketen and Madam Atta Afriyie were the hardest hit as family members and close associates had to restrain them from doing anything untoward to themselves in reaction to the painful loss.
The Mamponteng District police command has so far arrested a man believed to be in his early 30's in connection with the gruesome murder.
The suspect, who is currently in police custody according to sources, was sighted at the place where the body was found and when a search was conducted on him, a knife was retrieved.
Meanwhile the Mamponteng District Police says it is still investigating the case to ensure that the perpetrators are brought to book.
From Morgan Owusu, Kumasi