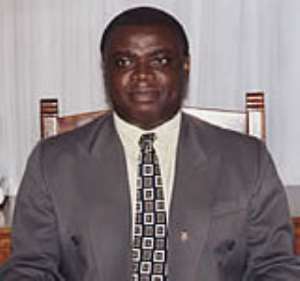 Lawyers of the embattled Managing Director of the National Investment Bank (NIB), Mr Daniel Charles Gyimah, have accused the state prosecutors of acting in bad faith.
Mr Gyimah is in a legal tussle with the state as he faces charges of wilfully causing financial loss to the tune of 60 million dollars to the state.
His lawyer, Alex Johnson, said the prosecution amended certain court documents without notifying the defence.
Joy reporter Benard Nasara Saibu, witnessed proceedings in court on Friday.
The lead prosecutor Daniel D.K. Frimpong, according to Benard, made an oral application to the presiding judge Justice D.E.K. Djakete asking for portions of the charge sheet to be amended.
The judge is said to have upheld the application which was made to him and consequently the charges preferred against Mr Gyimah read as: Wilfully causing financial loss to the state and forging documents in respect of the transaction between the NIB and Eland International.
Following the ruling, lawyers of Mr Gyimah rose to their feet to register their displeasure at the judge's decision.
According to them they had been served an unfair treatment, the prosecution influencing an amendment of the charge sheet without giving prior notification to the defence.
They described the action of the prosecution as unhealthy and asked the judge to intervene for the prosecution to do the right thing.
But Mr Frimpong, prosecuting, argued that the prosecution was not under a bail of indictment by which they were obliged to inform Daniel Gyimah of the amendment.
According to him, the prosecution had earlier cautioned Mr Gyimah on a possible amendment, stressing, that constituted enough notification and that it was necessary for Mr Gyimah's lawyers to that into consideration.
Debate in the courtroom following the disagreements took on a bitter turn when the defence expressed disquiet about what they said had been the slow spate of proceedings since Mr Gyimah was arrested five weeks ago and "unlawfully" detained.
They called on the prosecution to get their acts right to enable the defence to prove its innocence.
The prosecution has it that on May 7, 2007 Gyimah unilaterally entered into an agreement with Eland International (Ghana) Limited in which he used NIB as a guarantor and issued 30 promissory notes valued at 60 million dollars.
The promissory notes were to mature on January 29, this year.
The judge subsequently called for an adjournment. Mr Gyimah reappears in court on March 27, 2009.
Meanwhile lead prosecutor Mr Frimpong hinted that Attorney General and Minister of Justice Madam Betty Mould-Iddrisu might soon step in to handle the case involving Mr Gyimah.
He did not give reasons for the possible replacement.
Story by Fiifi Koomson