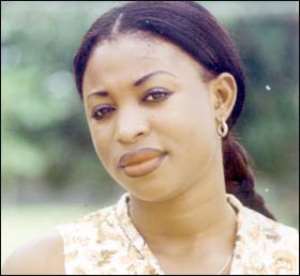 Jennifer or Joy The Police have mounted a search for a Nigerian woman who allegedly murdered her boyfriend at Kissieman, a suburb of Accra.
The suspect, who is known either as Jennifer or Joy, reportedly murdered 30-year-old Mario Asimo Chris, an indigene of Warri in the Delta State of Nigeria, with a knife.  
Reports gathered by DAILY GUIDE indicate that the deceased recently took Joy to Nigeria where he introduced her to his parents as his wife-to-be.
The lovers, who co-habited in an apartment rented by Joy at Kissieman, often quarreled at the least provocation.
On that fateful night of March 14, reports said the landlady, Anna Ayitey, heard the suspect and her lover quarreling once again, so she went to mediate and subsequently cautioned them.
She took another look at their room from a distance and saw Joy come out of the room and move towards a dustbin.
The suspect then went back to the room and locked the door and so Madam Ayitey left the scene thinking all was well.
She later received a call from Joy asking whether her boyfriend had gone out.
Surprised, the landlady asked why she was posing that question at that time, considering the fact that both of them were in the same room.
Then Joy said Chris was not at home and that she wanted to pack her belongings while the man was away.
Alarmed, the landlady returned to her tenants' place and realizing that the light in the room was on, started calling out Chris' name.
After calling him repeatedly and getting no response, she peeped through the room and on seeing the deceased lying motionless on the floor, she called her children to come and find out what was amiss. It was then discovered that Chris had been murdered.
The landlady's children advised that the Police be called in but because it was late at night, the security agents could not come until Sunday.
The Police discovered the telltale knife used in the alleged murder lying in the dustbin. Joy is currently said to be on the run.
The police have indicated that the family of the deceased would arrive in the country on Friday to identify their kin.
They appealed to the public, especially members of the Nigerian community who may have further information about the suspect, to call at the Tesano Police station to assist the police in their investigations.
By Rocklyn Antonio