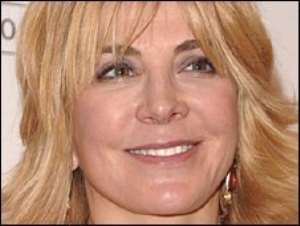 British actress Natasha Richardson has died from head injuries sustained in a skiing accident in Canada.
Richardson, 45, the daughter of actress Vanessa Redgrave, fell on a beginners' slope at the Mont Tremblant resort in Quebec on Monday.
The family were devastated by the death of their "beloved Natasha", her husband Liam Neeson's publicist said.
Richardson died in a New York hospital, close to the home she shared with Irish actor Neeson and their two sons.
The accident happened while the actress was taking a supervised skiing lesson at the Quebec resort.
Richardson initially showed no sign of injury but about an hour later she was taken to a nearby hospital after feeling unwell. It was later confirmed her injuries were critical.
Irish actor Neeson, 56, flew from the set of his new film in Toronto to be with his wife as soon as he heard news of the accident.
He accompanied her as she was flown from Canada to Lenox Hill Hospital, in New York, on Tuesday.
Neeson, her mother Oscar-winning actress Vanessa Redgrave, 72, and two sons, Michael, 13, and Daniel, 12, had gathered at her bedside.
Her sister, the Nip/Tuck actress Joely Richardson, was also pictured visiting the hospital.
Richardson's death was announced shortly before midnight GMT. Neeson left the Manhattan hospital in a people carrier at about 2030 local time (0030 GMT).
Alan Nierob, Neeson's publicist, said: "Liam Neeson, his sons, and the entire family are shocked and devastated by the tragic death of their beloved Natasha.
"They are profoundly grateful for the support, love and prayers of everyone, and ask for privacy during this very difficult time."
'Great actress'
Richardson starred in films and TV but won most acclaim for her stage work.
Part of the Redgrave acting dynasty, she was the daughter of Redgrave and director Tony Richardson.
The Sunday Telegraph's theatre critic, Tim Walker, said she never needed to ride on the coat-tails of her famous relations.
He said Richardson took the decision early in her career to "stand or fall on her own" and left London to begin her career in Leeds at the West Yorkshire Playhouse.
"The world of acting has been deprived of a great actress, really in her prime," he said.
"She had a sort of luminous presence on the stage, but off-stage she was a very shy, easy-going, almost self-deprecating character who didn't like being made a fuss of."
Richardson, whose father director Tony died of Aids-related causes in 1991, was on the board of the US-based charity amfAR, The Foundation for Aids Research.
A spokeswoman for the charity said she was a "dedicated Aids advocate" and an "eloquent spokesperson for amfAR".
"Our hearts go out to her family. This is a catastrophic loss for them, and it is a terrible loss for amfAR and the fight against Aids," she said.
"She generously contributed her time and resources to amfAR for over 15 years."
Head injuries
It is not known exactly what happened to Richardson.
However, leading neurosurgeon Chris Chandler said a seemingly minor blow on the head can cause life-threatening injuries.
Mr Chandler, from King's College Hospital in south London, said the effects of a blow to the head may not become apparent until several hours afterwards and, if untreated, a patient can fall into a coma.
"A blow to the head can cause a bruise or rupture a blood vessel that slowly swells, causing pressure to build up inside the skull," he said.
"In the skull there is nowhere for the brain to move to so pressure continues to grow and that swelling can cause the brain to malfunction because it can limit circulation.
"If that pressure is not relieved it can kill."